The Zeppelin appears in both versions of Learn 2 Fly. This article will cover both versions.
Learn 2 Fly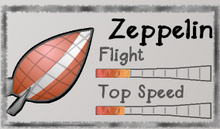 The Zeppelin is a passive glider. It is rated 3/10 for Flight, and 2.5/10 for Top Speed. It costs $3500.
Description
"Using the Zeppelin assures a long and easy flight. Its shape allows it to reach speed much higher than other passive devices."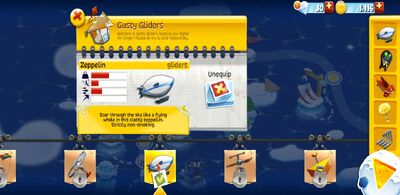 The Zeppelin costs 2100 coins in the Gusty Gliders shop.
Description
"Soar through the sky like a flying whale in this classy zeppelin. Strictly non-smoking."