"Stronger first stage, but others are weakened."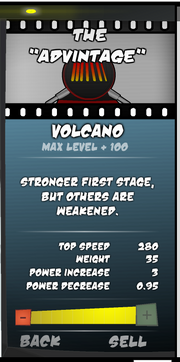 The description of the Volcano.
Overview
The Volcano is a really heavy body that is obtained from a card pack. It makes the first stage a little stronger, but weakens the remaining stages. I'm not really too sure this would have a practical use, as the Secret Ingredient from the bonus shop already covers this nicely.
| Level | Top Speed | Weight | Power Increase | Power Decrease | Stage Slots (hidden) | Boost Slots (hidden) |
| --- | --- | --- | --- | --- | --- | --- |
| 1 | 30 | 35 Fixed | 1.25 | 0.75 | 2 | 1 |
| 2 | 31.5 | | 1.26 | 0.76 | 2 | 1 |
| 3 | 33 | | 1.27 | 0.77 | 2 | 1 |
| 4 | 34.5 | | 1.28 | 0.78 | 2 | 1 |
| 5 | 36 | | 1.29 | 0.79 | 2 | 1 |
| 6 | 37.5 | | 1.3 | 0.8 | 2 | 2 Fixed |
| 7 | 39 | | 1.31 | 0.81 | 2 | |
| 8 | 40.5 | | 1.32 | 0.82 | 2 | |
| 9 | 42 | | 1.33 | 0.83 | 2 | |
| 10 | 43.5 | | 1.34 | 0.84 | 2 | |
| Max | 45 | | 1.35 | 0.85 | 3 Fixed | |
| Max+1 | 45.6 | | 1.355 | 0.852 | | |
| Max+2 | 46.4 | | 1.36 | 0.853 | | |
| Max+3 | 47.2 | | 1.365 | 0.855 | | |
| Max+4 | 48.1 | | 1.37 | 0.857 | | |
| Max+5 | 49.1 | | 1.375 | 0.858 | | |
| Max+6 | 50.1 | | 1.38 | 0.86 | | |
| Max+7 | 51.1 | | 1.385 | 0.862 | | |
| Max+8 | 52.2 | | 1.39 | 0.863 | | |
| Max+9 | 53.3 | | 1.395 | 0.865 | | |
| Max+10 | 54.4 | | 1.4 | 0.867 | | |
| Max+11 | 55.5 | | 1.405 | 0.868 | | |
| Max+12 | 56.7 | | 1.41 | 0.87 | | |
| Max+13 | 57.8 | | 1.415 | 0.872 | | |
| Max+14 | 59 | | 1.42 | 0.873 | | |
| Max+15 | 60.2 | | 1.425 | 0.875 | | |
| Max+16 | 61.5 | | 1.43 | 0.877 | | |
| Max+17 | 62.7 | | 1.435 | 0.878 | | |
| Max+18 | 64 | | 1.44 | 0.88 | | |
| Max+19 | 65.2 | | 1.445 | 0.882 | | |
| Max+20 | 66.5 | | 1.45 | 0.883 | | |
| Max+21 | 67.8 | | 1.46 | 0.885 | | |
| Max+22 | 69.1 | | 1.46 | 0.887 | | |
| Max+23 | 70.4 | | 1.465 | 0.888 | | |
| Max+24 | 71.8 | | 1.47 | 0.89 | | |
| Max+25 | 73.1 | | 1.475 | 0.892 | | |
| Max+26 | 74.5 | | 1.48 | 0.893 | | |
| Max+27 | 75.8 | | 1.485 | 0.895 | | |
| Max+28 | 77.2 | | 1.49 | 0.897 | | |
| Max+29 | 78.6 | | 1.495 | 0.898 | | |
| Max+30 | 80 | | 1.5 | 0.9 | | |
| Max+100 | 280 | | 3 | 0.95 | | |