"Gimbaled thrust allows for extra maneuverability. Kinda weak and heavy."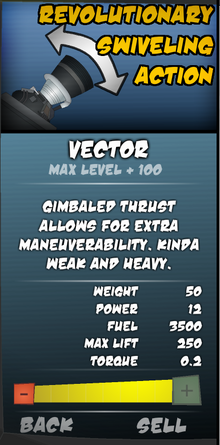 The description for the Vector.
Overview
The Vector, like the description says, is pretty weak and really heavy. It also has poor fuel. But it actually does increase your control just a tad. Base Cost: $2500
Obtaining
The Vector is obtainable via the Black Market.
| Level | Weight | Power | Fuel | Max Lift | Torque |
| --- | --- | --- | --- | --- | --- |
| 1 | 20 | 1.8 | 550 | 40 | 0.05 |
| 2 | 21.3 | 2.01 | 606 | 43.8 | 0.056 |
| 3 | 22.5 | 2.23 | 663 | 47.5 | 0.063 |
| 4 | 23.8 | 2.44 | 719 | 51.3 | 0.069 |
| 5 | 25 | 2.65 | 775 | 55 | 0.075 |
| 6 | 26.3 | 2.86 | 831 | 58.8 | 0.081 |
| 7 | 27.5 | 3.08 | 888 | 62.5 | 0.088 |
| 8 | 28.8 | 3.29 | 944 | 66.3 | 0.094 |
| Max | 30 | 3.5 | 1000 | 70 | 0.1 |
| Max +1 | 30.2 | 3.58 | 1017 | 72.7 | 0.102 |
| Max +2 | 30.4 | 3.67 | 1033 | 75.3 | 0.103 |
| Max +3 | 30.6 | 3.75 | 1050 | 78 | 0.105 |
| Max +4 | 30.8 | 3.83 | 1067 | 80.7 | 0.107 |
| Max +5 | 31 | 3.92 | 1083 | 83.3 | 0.108 |
| Max +6 | 31.2 | 4 | 1100 | 86 | 0.11 |
| Max +7 | 31.4 | 4.08 | 1117 | 88.7 | 0.112 |
| Max +8 | 31.6 | 4.17 | 1133 | 91.3 | 0.113 |
| Max +9 | 31.8 | 4.25 | 1150 | 94 | 0.115 |
| Max +10 | 32 | 4.33 | 1167 | 96.7 | 0.117 |
| Max +11 | 32.2 | 4.42 | 1183 | 99.3 | 0.118 |
| Max +12 | 32.4 | 4.5 | 1200 | 102 | 0.12 |
| Max +13 | 32.6 | 4.58 | 1217 | 105 | 0.122 |
| Max +14 | 32.8 | 4.67 | 1233 | 107 | 0.123 |
| Max +15 | 33 | 4.75 | 1250 | 110 | 0.125 |
| Max +16 | 33.2 | 4.83 | 1267 | 113 | 0.127 |
| Max +17 | 33.4 | 4.92 | 1283 | 115 | 0.128 |
| Max +18 | 33.6 | 5 | 1300 | 118 | 0.13 |
| Max +19 | 33.8 | 5.08 | 1317 | 121 | 0.132 |
| Max +20 | 34 | 5.17 | 1333 | 123 | 0.133 |
| Max +21 | 34.2 | 5.25 | 1350 | 126 | 0.135 |
| Max +22 | 34.4 | 5.33 | 1367 | 129 | 0.137 |
| Max +23 | 34.6 | 5.42 | 1383 | 131 | 0.138 |
| Max +24 | 34.8 | 5.5 | 1400 | 134 | 0.14 |
| Max +25 | 35 | 5.58 | 1417 | 137 | 0.142 |
| Max +26 | 35.2 | 5.67 | 1433 | 139 | 0.143 |
| Max +27 | 35.4 | 5.75 | 1450 | 142 | 0.144 |
| Max +28 | 35.6 | 5.83 | 1467 | 145 | 0.147 |
| Max +29 | 35.8 | 5.92 | 1483 | 147 | 0.148 |
| Max +30 | 36 | 6 | 1500 | 150 | 0.15 |
| Max +100 | 50 | 12 | 3500 | 250 | 0.2 |