"Modified to work out of water! Guess you could call it a missile..."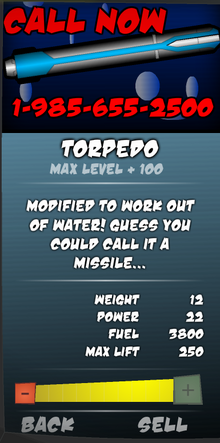 The description for the Torpedo.
Performance
The Torpedo is a pretty fast stage that is pretty intolerant of heavy loads. It has lame fuel and is heavy, but its weight can't be seen much under its power. Base Cost: $5000
Obtaining
The Torpedo is obtained through a Booster Pack.
| Level | Weight | Power | Fuel | Max Lift |
| --- | --- | --- | --- | --- |
| 1 | 12 Fixed | 5.5 | 550 | 30 |
| 2 | | 5.85 | 595 | 32 |
| 3 | | 6.2 | 640 | 34 |
| 4 | | 6.55 | 685 | 36 |
| 5 | | 6.9 | 730 | 38 |
| 6 | | 7.25 | 775 | 40 |
| 7 | | 7.6 | 820 | 42 |
| 8 | | 7.95 | 865 | 44 |
| 9 | | 8.3 | 910 | 46 |
| 10 | | 8.65 | 955 | 48 |
| Max | | 9 | 1000 | 50 |
| Max +1 | | 9.3 | 1033 | 50.7 |
| Max +2 | | 9.6 | 1067 | 51.3 |
| Max +3 | | 9.9 | 1100 | 52 |
| Max +4 | | 10.2 | 1133 | 52.7 |
| Max +5 | | 10.5 | 1167 | 53.3 |
| Max +6 | | 10.8 | 1200 | 54 |
| Max +7 | | 11.1 | 1233 | 54.7 |
| Max +8 | | 11.4 | 1267 | 55.3 |
| Max +9 | | 11.7 | 1300 | 56 |
| Max +10 | | 12 | 1333 | 56.7 |
| Max +11 | | 12.3 | 1367 | 57.3 |
| Max +12 | | 12.6 | 1400 | 58 |
| Max +13 | | 12.9 | 1433 | 58.7 |
| Max +14 | | 13.2 | 1467 | 59.3 |
| Max +15 | | 13.5 | 1500 | 60 |
| Max +16 | | 13.8 | 1533 | 60.7 |
| Max +17 | | 14.1 | 1567 | 61.3 |
| Max +18 | | 14.4 | 1600 | 62 |
| Max +19 | | 14.7 | 1633 | 62.7 |
| Max +20 | | 15 | 1667 | 63.3 |
| Max +21 | | 15.3 | 1700 | 64 |
| Max +22 | | 15.6 | 1733 | 64.7 |
| Max +23 | | 15.9 | 1767 | 65.3 |
| Max +24 | | 16.2 | 1800 | 66 |
| Max +25 | | 16.5 | 1833 | 66.7 |
| Max +26 | | 16.8 | 1867 | 67.3 |
| Max +27 | | 17.1 | 1900 | 68 |
| Max +28 | | 17.4 | 1933 | 68.7 |
| Max +29 | | 17.7 | 1967 | 69.3 |
| Max +30 | | 18 | 2000 | 70 |
| Max +100 | | 22 | 3800 | 250 |