"Now I am become death, the destroyer of worlds."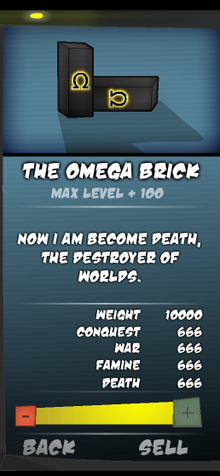 The description for The Omega Brick
Obtaining
The Omega Brick requires its fragments to be assembled, which can be obtained in a card pack.
Performance
The Omega Brick is one of the six omega parts and is the omega version of The Brick. Much like The Brick, it is a useless boost that adds weight the more you pay. It is the heaviest thing in the game, being able to completely negate the launch of a Max Level + 100 Omega Coil at Max Level + 60. Base Cost: $10,000
Obtaining
The Omega Brick comes out of Booster Packs. However, being one of the Six Omega Items, will require 3 card fragments instead of 1 card to be obtained.
| Level | Weight | Conquest | War | Famine | Death |
| --- | --- | --- | --- | --- | --- |
| 1 | 50 | 666 - Fixed | 666 - Fixed | 666 - Fixed | 666 - Fixed |
| 2 | 75 | | | | |
| 3 | 100 | | | | |
| 4 | 125 | | | | |
| 5 | 150 | | | | |
| 6 | 175 | | | | |
| 7 | 200 | | | | |
| 8 | 225 | | | | |
| 9 | 250 | | | | |
| 10 | 275 | | | | |
| Max | 300 | | | | |
| Max +1 | 323 | | | | |
| Max +2 | 347 | | | | |
| Max +3 | 370 | | | | |
| Max +4 | 393 | | | | |
| Max +5 | 417 | | | | |
| Max +6 | 440 | | | | |
| Max +7 | 463 | | | | |
| Max +8 | 487 | | | | |
| Max +9 | 510 | | | | |
| Max +10 | 533 | | | | |
| Max +11 | 557 | | | | |
| Max +12 | 580 | | | | |
| Max +13 | 603 | | | | |
| Max +14 | 627 | | | | |
| Max +15 | 650 | | | | |
| Max +16 | 673 | | | | |
| Max +17 | 697 | | | | |
| Max +18 | 720 | | | | |
| Max +19 | 743 | | | | |
| Max +20 | 767 | | | | |
| Max +21 | 790 | | | | |
| Max +22 | 813 | | | | |
| Max +23 | 837 | | | | |
| Max +24 | 860 | | | | |
| Max +25 | 883 | | | | |
| Max +26 | 907 | | | | |
| Max +27 | 930 | | | | |
| Max +28 | 953 | | | | |
| Max +29 | 977 | | | | |
| Max +30 | 1000 | | | | |
| Max +100 | 10000 | | | | |