"Ugly. Dangerous. Unreliable. But it's cheap and made with love."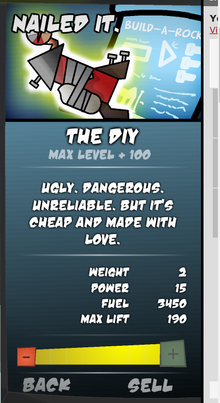 The description for the DIY.
Performance
The DIY is a really strong stage with decent fuel. However, the catch is, like the description suggests, it IS really ugly and it IS unreliable. It can at times break down, sometimes long enough for you to end the day. Base Cost: $90
Obtaining
The DIY is obtained via the Black Market.
| Level | Weight | Power | Fuel | Max Lift |
| --- | --- | --- | --- | --- |
| 1 | 2 Fixed | 2.5 | 325 | 20 |
| 2 | | 2.81 | 409 | 25 |
| 3 | | 3.13 | 494 | 30 |
| 4 | | 3.44 | 578 | 35 |
| 5 | | 3.75 | 663 | 40 |
| 6 | | 4.06 | 747 | 45 |
| 7 | | 4.38 | 831 | 50 |
| 8 | | 4.69 | 916 | 55 |
| Max | | 5 | 1000 | 60 |
| Max +1 | | 5.1 | 1018 | 61 |
| Max +2 | | 5.2 | 1037 | 62 |
| Max +3 | | 5.3 | 1055 | 63 |
| Max +4 | | 5.4 | 1073 | 64 |
| Max +5 | | 5.5 | 1092 | 65 |
| Max +6 | | 5.6 | 1110 | 66 |
| Max +7 | | 5.7 | 1128 | 67 |
| Max +8 | | 5.8 | 1147 | 68 |
| Max +9 | | 5.9 | 1165 | 69 |
| Max +10 | | 6 | 1183 | 70 |
| Max +11 | | 6.1 | 1202 | 71 |
| Max +12 | | 6.2 | 1220 | 72 |
| Max +13 | | 6.3 | 1238 | 73 |
| Max +14 | | 6.4 | 1257 | 74 |
| Max +15 | | 6.5 | 1275 | 75 |
| Max +16 | | 6.6 | 1293 | 76 |
| Max +17 | | 6.7 | 1312 | 77 |
| Max +18 | | 6.8 | 1330 | 78 |
| Max +19 | | 6.9 | 1348 | 79 |
| Max +20 | | 7 | 1367 | 80 |
| Max +21 | | 7.1 | 1385 | 81 |
| Max +22 | | 7.2 | 1403 | 82 |
| Max +23 | | 7.3 | 1422 | 83 |
| Max +24 | | 7.4 | 1440 | 84 |
| Max +25 | | 7.5 | 1458 | 85 |
| Max +26 | | 7.6 | 1477 | 86 |
| Max +27 | | 7.7 | 1495 | 87 |
| Max +28 | | 7.8 | 1513 | 88 |
| Max +29 | | 7.9 | 1532 | 89 |
| Max +30 | | 8 | 1550 | 90 |
| Max +100 | | 15 | 3450 | 190 |