Overview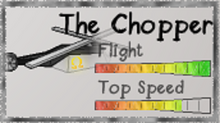 The Chopper is a propelled glider in Learn 2 Fly. It is rated a solid ten for flight and 7.6/10 for top speed.
Obtaining
The Chopper requires the Omega Catalog to be purchased in the Bonus Shop, at which point it is then available in the shop for $40000.
Description
"GET TO THE CHOPPA !!!11!1!one!"