"What goes fast? Bullets. How do you go fast? By being the bullet."
The description of the Bullet.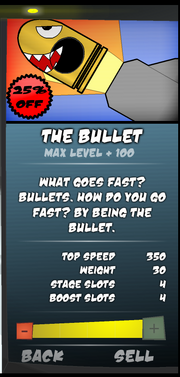 Overview
The Bullet is the fastest body of the Starter Set. It is really heavy, and has terrible steering, so you probably want to use this with Spin Boosters. Despite this, the Bullet is one of the more popular bodies when used in a speedrun because it is so fast, so you can just use Sonic Bursts with it to quickly complete the game. This setup, however, is far from optimal, as Redzone quickly cuts down your speed. Base Cost: $1000.
| Level | Top Speed | Weight | Stage Slots | Boost Slots |
| --- | --- | --- | --- | --- |
| 1 | 30 | 30 Fixed | 3 | 0 |
| 2 | 35 | | 3 | 0 |
| 3 | 40 | | 3 | 1 |
| 4 | 45 | | 3 | 1 |
| Max | 50 | | 4 Fixed | 1 |
| Max+1 | 50.7 | | | 1 |
| Max+2 | 51.6 | | | 1 |
| Max+3 | 52.5 | | | 1 |
| Max+4 | 53.6 | | | 1 |
| Max+5 | 54.7 | | | 2 |
| Max+6 | 55.8 | | | 2 |
| Max+7 | 57 | | | 2 |
| Max+8 | 58.2 | | | 2 |
| Max+9 | 59.4 | | | 2 |
| Max+10 | 60.7 | | | 2 |
| Max+11 | 62 | | | 2 |
| Max+12 | 63.3 | | | 2 |
| Max+13 | 64.7 | | | 2 |
| Max+14 | 66 | | | 2 |
| Max+15 | 67.4 | | | 2 |
| Max+16 | 68.8 | | | 2 |
| Max+17 | 70.2 | | | 2 |
| Max+18 | 71.7 | | | 2 |
| Max+19 | 73.1 | | | 2 |
| Max+20 | 74.6 | | | 2 |
| Max+21 | 76.1 | | | 2 |
| Max+22 | 77.6 | | | 2 |
| Max+23 | 79.1 | | | 2 |
| Max+24 | 80.6 | | | 2 |
| Max+25 | 82.1 | | | 2 |
| Max+26 | 83.7 | | | 2 |
| Max+27 | 85.2 | | | 2 |
| Max+28 | 86.8 | | | 2 |
| Max+29 | 88.4 | | | 2 |
| Max+30 | 90 | | | 4 Fixed |
| Max+100 | 350 | | | |