Overview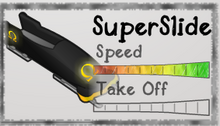 The SuperSlide is rated a solid ten for speed. It is a regular sled, so it has no take-off.
Obtaining
The SuperSlide requires the Omega Catalog to be purchased in the Bonus Shop first. Then it is available in the Shop Screen for $10000.
Description (No edit please)
"This is your regular bobsleigh... on steroids.
Alright, alright, it's just a paint job and a really nice decal."