Not to be confused with Story Mode from Learn to Fly 3.
Overview
Story Mode is the image of Learn 2 Fly; it introduces all the new obstacle-related mechanics seen in Learn 2 Fly. Story Mode also has more challenges than Classic Mode due to being able to make challenges based on obstacle destruction.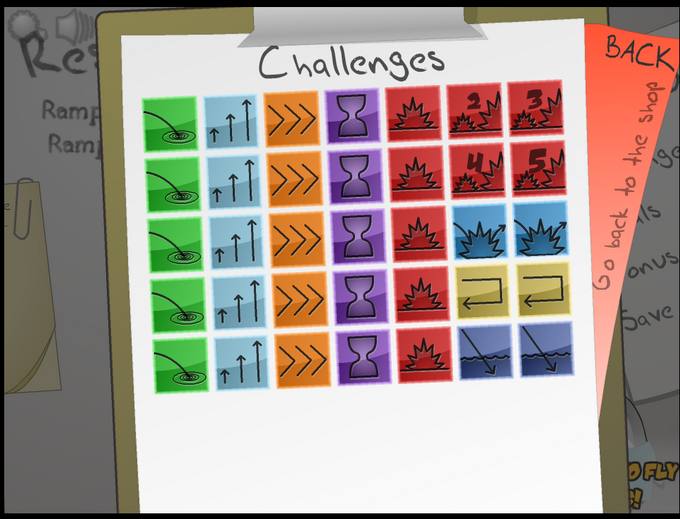 Story Mode is completed by destroying the Wall. This will earn the player the Story Mode medal along with 500 BP.
| Challenge | Level | Requirement | Difficulty | Reward |
| --- | --- | --- | --- | --- |
| Distance | 1 | 100 feet in distance | | $30 |
| | 2 | 350 feet in distance | | $75 |
| | 3 | 1000 feet in distance | | $350 |
| | 4 | 2000 feet in distance | | $800 |
| | 5 | 4000 feet in distance | | $1500 |
| Altitude | 1 | 10 feet in altitude | | $30 |
| | 2 | 35 feet in altitude | | $75 |
| | 3 | 100 feet in altitude | | $350 |
| | 4 | 200 feet in altitude | | $800 |
| | 5 | 400 feet in altitude | | $1500 |
| Speed | 1 | Reach 35 mph | | $30 |
| | 2 | Reach 75 mph | | $75 |
| | 3 | Reach 125 mph | | $350 |
| | 4 | Reach 250 mph | | $800 |
| | 5 | Reach 450 mph | | $1500 |
| Duration | 1 | 10 seconds in flight | | $30 |
| | 2 | 25 seconds in flight | | $75 |
| | 3 | 45 seconds in flight | | $350 |
| | 4 | 60 seconds in flight | | $800 |
| | 5 | 90 seconds in flight | | $1500 |
| Destruction | 1 | Destroy the Snowman | | $75 |
| | 2 | Destroy the Snowmound | | $350 |
| | 3 | Destroy the Rocky Hill | | $800 |
| | 4 | Destroy the Iceberg | | $1500 |
| | 5 | Destroy the Wall | | $2500 |
| Combo | x2 | Destroy two obstacles in one day | | $350 |
| | x3 | Destroy three obstacles in one day | | $800 |
| | x4 | Destroy four obstacles in one day | | $1500 |
| | x5 | Destroy all five obstacles in one day | | $2500 |
| Bounce | 1 | Bounce on water twice in a single day | | $75 |
| | 2 | Bounce on water ten times in a single day | | $800 |
| Reverse | 1 | Fly to a distance of -100 feet | | $75 |
| | 2 | Fly to a distance of -2500 feet | | $1500 |
| Diving | 1 | Dive to an altitude of -15 feet | | $75 |
| | 2 | Dive to an altitude of -50 feet | | $1500 |