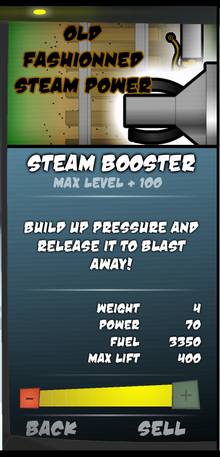 "Build up pressure and release it to blast away!"
The description for the Steam Booster.
Overview
The Steam Booster is a boost that can be obtained with a card pack. It is very powerful, has OK fuel and pretty light. Efficiency will vary widely between players; it takes skill to work this booster. Base Cost: $1250.
| Level | Weight | Power | Fuel | Max Lift |
| --- | --- | --- | --- | --- |
| 1 | 4 Fixed | 8 | 600 | 40 |
| 2 | | 8.4 | 620 | 46.5 |
| 3 | | 8.8 | 640 | 53 |
| 4 | | 9.2 | 660 | 59.5 |
| 5 | | 9.6 | 680 | 66 |
| 6 | | 10 | 700 | 72.5 |
| 7 | | 10.4 | 720 | 79 |
| 8 | | 10.8 | 740 | 85.5 |
| 9 | | 11.2 | 760 | 92 |
| 10 | | 11.6 | 780 | 98.5 |
| Max | | 12 | 800 | 105 |
| Max+1 | | 12.4 | 833 | 107 |
| Max+2 | | 12.8 | 867 | 108 |
| Max+3 | | 13.2 | 900 | 110 |
| Max+4 | | 13.6 | 933 | 111 |
| Max+5 | | 14 | 967 | 113 |
| Max+6 | | 14.4 | 1000 | 114 |
| Max+7 | | 14.8 | 1033 | 116 |
| Max+8 | | 15.2 | 1067 | 117 |
| Max+9 | | 15.6 | 1100 | 119 |
| Max+10 | | 16 | 1133 | 120 |
| Max+11 | | 16.4 | 1167 | 122 |
| Max+12 | | 16.8 | 1200 | 123 |
| Max+13 | | 17.2 | 1233 | 125 |
| Max+14 | | 17.6 | 1267 | 126 |
| Max+15 | | 18 | 1300 | 128 |
| Max+16 | | 18.4 | 1333 | 129 |
| Max+17 | | 18.8 | 1367 | 131 |
| Max+18 | | 19.2 | 1400 | 132 |
| Max+19 | | 19.6 | 1433 | 134 |
| Max+20 | | 20 | 1467 | 135 |
| Max+21 | | 20.4 | 1500 | 137 |
| Max+22 | | 20.8 | 1533 | 138 |
| Max+23 | | 21.2 | 1567 | 140 |
| Max+24 | | 21.6 | 1600 | 141 |
| Max+25 | | 22 | 1633 | 143 |
| Max+26 | | 22.4 | 1667 | 144 |
| Max+27 | | 22.8 | 1700 | 146 |
| Max+28 | | 23.2 | 1733 | 147 |
| Max+29 | | 23.6 | 1767 | 149 |
| Max+30 | | 24 | 1800 | 150 |
| Max+100 | | 70 | 3350 | 400 |