"If it's good enough for humans, it should work for penguins."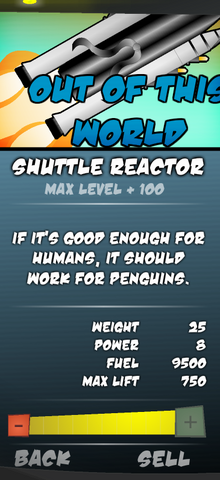 The description for the Shuttle Reactor.
Overview
The Shuttle Reactor is the final stage in the beginners' set, and as a result, tends to be the beginner's end-game goal. Though it is a decent stage, it pales in comparison to some of the stages introduced in later card packs.
Note that it is a very bad idea to get more bad copies of these than better but fewer stages because of its extreme weight. Base Cost: $6000
Obtaining
The Shuttle Reactor is part of the Starter Set.
| Level | Weight | Power | Fuel | Max Lift |
| --- | --- | --- | --- | --- |
| 1 | 25 Fixed | 2.6 | 1400 | 70 |
| 2 | | 2.72 | 1515 | 75 |
| 3 | | 2.84 | 1630 | 80 |
| 4 | | 2.96 | 1745 | 85 |
| 5 | | 3.08 | 1860 | 90 |
| 6 | | 3.2 | 1975 | 95 |
| 7 | | 3.32 | 2090 | 100 |
| 8 | | 3.44 | 2205 | 105 |
| 9 | | 3.56 | 2320 | 110 |
| 10 | | 3.68 | 2435 | 115 |
| Max | | 3.8 | 2550 | 120 |
| Max +1 | | 3.83 | 2615 | 124 |
| Max +2 | | 3.86 | 2680 | 129 |
| Max +3 | | 3.9 | 2745 | 133 |
| Max +4 | | 3.93 | 2810 | 137 |
| Max +5 | | 3.96 | 2875 | 142 |
| Max +6 | | 3.99 | 2940 | 146 |
| Max +7 | | 4.02 | 3005 | 150 |
| Max +8 | | 4.05 | 3070 | 155 |
| Max +9 | | 4.09 | 3135 | 159 |
| Max +10 | | 4.12 | 3200 | 163 |
| Max +11 | | 4.15 | 3265 | 168 |
| Max +12 | | 4.18 | 3330 | 172 |
| Max +13 | | 4.21 | 3395 | 176 |
| Max +14 | | 4.24 | 3460 | 181 |
| Max +15 | | 4.28 | 3525 | 185 |
| Max +16 | | 4.31 | 3590 | 189 |
| Max +17 | | 4.34 | 3655 | 194 |
| Max +18 | | 4.37 | 3720 | 198 |
| Max +19 | | 4.4 | 3785 | 202 |
| Max +20 | | 4.43 | 3850 | 207 |
| Max +21 | | 4.47 | 3915 | 211 |
| Max +22 | | 4.5 | 3980 | 215 |
| Max +23 | | 4.53 | 4045 | 220 |
| Max +24 | | 4.56 | 4110 | 224 |
| Max +25 | | 4.59 | 4175 | 228 |
| Max +26 | | 4.62 | 4240 | 233 |
| Max +27 | | 4.66 | 4305 | 237 |
| Max +28 | | 4.69 | 4370 | 241 |
| Max +29 | | 4.72 | 4435 | 246 |
| Max +30 | | 4.75 | 4500 | 250 |
| Max +100 | | 8 | 9500 | 750 |