"Obliterate the first few obstacles that cross your path! It's heavy though..."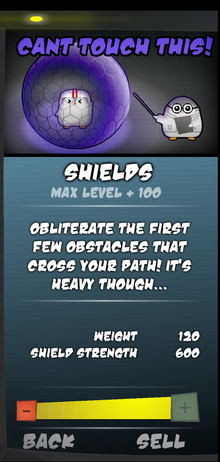 The description for the Shields.
Overview
The Shields are one of the few items that can only be obtained from purchase in the Black Market. It destroys obstacles that you run into, consuming some fuel in the process. It is passive, always running without end (until it runs out of fuel and breaks). They are extremely heavy compared against other boosts.
| Level | Weight | Shield Strength |
| --- | --- | --- |
| 1 | 12 | 10 |
| 2 | 13.8 | 15 |
| 3 | 15.6 | 20 |
| 4 | 17.4 | 25 |
| 5 | 19.2 | 30 |
| 6 | 21 | 35 |
| 7 | 22.8 | 40 |
| 8 | 24.6 | 45 |
| 9 | 26.4 | 50 |
| 10 | 28.2 | 55 |
| Max | 30 | 65 |
| Max+1 | 30.7 | 67.8 |
| Max+2 | 31.3 | 70.7 |
| Max+3 | 32 | 73.5 |
| Max+4 | 32.7 | 76.3 |
| Max+5 | 33.3 | 79.2 |
| Max+6 | 34 | 82 |
| Max+7 | 37 | 84.8 |
| Max+8 | 35.3 | 87.7 |
| Max+9 | 36 | 90.5 |
| Max+10 | 36.7 | 93.3 |
| Max+11 | 37.3 | 96.2 |
| Max+12 | 38 | 99 |
| Max+13 | 38.7 | 102 |
| Max+14 | 39.3 | 105 |
| Max+15 | 40 | 108 |
| Max+16 | 40.7 | 110 |
| Max+17 | 41.3 | 117 |
| Max+18 | 42 | 116 |
| Max+19 | 42.7 | 119 |
| Max+20 | 43.3 | 122 |
| Max+21 | 44 | 125 |
| Max+22 | 44.7 | 127 |
| Max+23 | 45.3 | 130 |
| Max+24 | 46 | 133 |
| Max+25 | 46.7 | 136 |
| Max+26 | 47.3 | 139 |
| Max+27 | 48 | 142 |
| Max+28 | 48.7 | 144 |
| Max+29 | 49.3 | 147 |
| Max+30 | 50 | 150 |
| Max+100 | 120 | 600 |