"Spin the cylinder and hope to get a killer shot."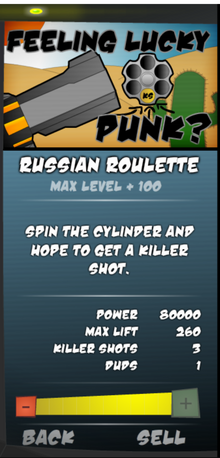 The description of the Russian Roulette.
Overview
The Russian Roulette is a very luck-based launcher. Basically you touch any key and it will generate an outcome. It can be a Killer Shot, a regular one, or a dud (empty barrel). Naturally, as said in the description, you are attempting to roll a Killer Shot. It's a very powerful launcher if you can nail the KS, but it really depends on how much you believe in your luck. A killer shot is when you get 2 red rings. Base Cost: $350.
| Level | Power | Max Lift | Killer Shots | Duds |
| --- | --- | --- | --- | --- |
| 1 | 777 | 25 | 1 | 3 |
| 2 | 983 | 28.5 | 1 | 3 |
| 3 | 1425 | 32 | 1 | 3 |
| 4 | 2042 | 35.5 | 1 | 2 |
| 5 | 2811 | 39 | 1 | 2 |
| 6 | 3716 | 42.5 | 1 | 2 |
| 7 | 4747 | 46 | 1 | 2 |
| 8 | 5897 | 49.5 | 1 | 1 Fixed |
| 9 | 7159 | 53 | 1 | |
| 10 | 8528 | 56.5 | 1 | |
| Max | 10000 | 60 | 2 | |
| Max+1 | 10667 | 61.3 | 2 | |
| Max+2 | 11333 | 62.7 | 2 | |
| Max+3 | 12000 | 64 | 2 | |
| Max+4 | 12667 | 65.3 | 2 | |
| Max+5 | 13333 | 66.7 | 2 | |
| Max+6 | 14000 | 68 | 2 | |
| Max+7 | 14667 | 69.3 | 2 | |
| Max+8 | 15333 | 70.7 | 2 | |
| Max+9 | 16000 | 72 | 2 | |
| Max+10 | 16667 | 73.3 | 2 | |
| Max+11 | 17333 | 74.7 | 2 | |
| Max+12 | 18000 | 76 | 2 | |
| Max+13 | 18667 | 77.3 | 2 | |
| Max+14 | 19333 | 78.7 | 2 | |
| Max+15 | 20000 | 80 | 2 | |
| Max+16 | 20667 | 81.3 | 2 | |
| Max+17 | 21333 | 82.7 | 2 | |
| Max+18 | 22000 | 84 | 2 | |
| Max+19 | 22667 | 85.3 | 2 | |
| Max+20 | 23333 | 86.7 | 2 | |
| Max+21 | 24000 | 88 | 2 | |
| Max+22 | 24667 | 89.3 | 2 | |
| Max+23 | 25333 | 90.7 | 2 | |
| Max+24 | 26000 | 92 | 2 | |
| Max+25 | 26667 | 93.3 | 2 | |
| Max+26 | 27333 | 94.7 | 2 | |
| Max+27 | 28000 | 96 | 2 | |
| Max+28 | 28667 | 97.3 | 2 | |
| Max+29 | 29333 | 98.7 | 2 | |
| Max+30 | 30000 | 100 | 3 Fixed | |
| Max+100 | 80000 | 260 | | |