"Requires speed in order to function efficiently."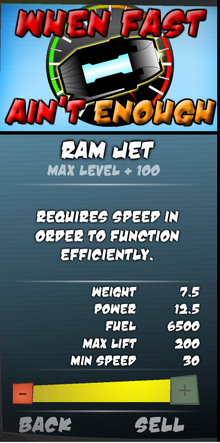 The Description for the Ram Jet.
Overview
The Ram Jet is a fairly strong stage with OK fuel. It is very intolerant of heavy loads, making it not an ideal starter stage. Because it is so badly affected by its minimum speed, it will have bad performance in its early levels, then it will get even worse when its propulsion drops it below its minimum speed. Not Good. Base Cost: $3500.
Obtaining
The Ram Jet is part of the Starter Set.
| Level | Weight | Power | Fuel | Max Lift | Min. Speed |
| --- | --- | --- | --- | --- | --- |
| 1 | 7.5 Fixed | 3 | 900 | 30 | 30 Fixed |
| 2 | | 3.2 | 990 | 32 | |
| 3 | | 3.4 | 1080 | 34 | |
| 4 | | 3.6 | 1170 | 36 | |
| 5 | | 3.8 | 1260 | 38 | |
| 6 | | 4 | 1350 | 40 | |
| 7 | | 4.2 | 1440 | 42 | |
| 8 | | 4.4 | 1530 | 44 | |
| 9 | | 4.6 | 1620 | 46 | |
| 10 | | 4.8 | 1710 | 48 | |
| Max | | 5 | 1800 | 50 | |
| Max +1 | | 5.07 | 1840 | 51.7 | |
| Max +2 | | 5.15 | 1880 | 53.3 | |
| Max +3 | | 5.22 | 1920 | 55 | |
| Max +4 | | 5.29 | 1960 | 56.7 | |
| Max +5 | | 5.37 | 2000 | 58.3 | |
| Max +6 | | 5.44 | 2040 | 60 | |
| Max +7 | | 5.51 | 2080 | 61.7 | |
| Max +8 | | 5.59 | 2120 | 63.3 | |
| Max +9 | | 5.66 | 2160 | 65 | |
| Max +10 | | 5.73 | 2200 | 66.7 | |
| Max +11 | | 5.81 | 2240 | 68.3 | |
| Max +12 | | 5.88 | 2280 | 70 | |
| Max +13 | | 5.95 | 2320 | 71.7 | |
| Max +14 | | 6.03 | 2360 | 73.3 | |
| Max +15 | | 6.1 | 2400 | 75 | |
| Max +16 | | 6.17 | 2440 | 76.7 | |
| Max +17 | | 6.25 | 2480 | 78.3 | |
| Max +18 | | 6.32 | 2520 | 80 | |
| Max +19 | | 6.39 | 2560 | 81.7 | |
| Max +20 | | 6.47 | 2600 | 83.3 | |
| Max +21 | | 6.54 | 2640 | 85 | |
| Max +22 | | 6.61 | 2680 | 86.7 | |
| Max +23 | | 6.69 | 2720 | 88.3 | |
| Max +24 | | 6.76 | 2760 | 90 | |
| Max +25 | | 6.83 | 2800 | 91.7 | |
| Max +26 | | 6.91 | 2840 | 93.3 | |
| Max +27 | | 6.98 | 2880 | 95 | |
| Max +28 | | 7.05 | 2920 | 96.7 | |
| Max +29 | | 7.13 | 2960 | 98.3 | |
| Max +30 | | 7.2 | 3000 | 100 | |
| Max +100 | | 12.5 | 6500 | 200 | |