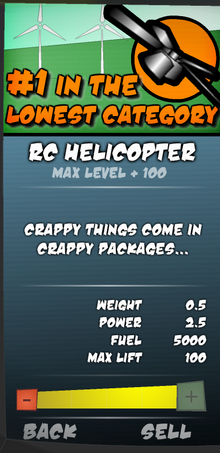 "Crappy Things come in Crappy Packages..."
The description for the RC Helicopter
Performance
The RC Helicopter is a pretty weak stage. However, it has tons of fuel for its price. It has a really low Max lift, but due to the masses of fuel, this stage is often used in speedruns and quick game completions. Base cost: $15.
Obtaining
The RC Helicopter is obtained through a Booster Pack.
| Level | Weight | Power | Fuel | Max Lift |
| --- | --- | --- | --- | --- |
| 1 | 0.5 Fixed | 1 | 400 | 8 |
| 2 | | 1.02 | 550 | 8.5 |
| 3 | | 1.05 | 700 | 9 |
| 4 | | 1.08 | 850 | 9.5 |
| Max | | 1.1 | 1000 | 10 |
| Max +1 | | 1.12 | 1040 | 11.3 |
| Max +2 | | 1.13 | 1080 | 12.7 |
| Max +3 | | 1.15 | 1120 | 14 |
| Max +4 | | 1.16 | 1160 | 15.3 |
| Max +5 | | 1.18 | 1200 | 16.7 |
| Max +6 | | 1.19 | 1240 | 18 |
| Max +7 | | 1.21 | 1280 | 19.3 |
| Max +8 | | 1.22 | 1320 | 20.7 |
| Max +9 | | 1.24 | 1360 | 22 |
| Max +10 | | 1.25 | 1400 | 23.3 |
| Max +11 | | 1.27 | 1440 | 24.7 |
| Max +12 | | 1.28 | 1480 | 26 |
| Max +13 | | 1.3 | 1520 | 27.3 |
| Max +14 | | 1.31 | 1560 | 28.7 |
| Max +15 | | 1.33 | 1600 | 30 |
| Max +16 | | 1.34 | 1640 | 31.3 |
| Max +17 | | 1.36 | 1680 | 32.7 |
| Max +18 | | 1.37 | 1720 | 34 |
| Max +19 | | 1.39 | 1760 | 35.3 |
| Max +20 | | 1.4 | 1800 | 36.7 |
| Max +21 | | 1.42 | 1840 | 38 |
| Max +22 | | 1.43 | 1880 | 39.3 |
| Max +23 | | 1.45 | 1920 | 40.7 |
| Max +24 | | 1.46 | 1960 | 42 |
| Max +25 | | 1.48 | 2000 | 43.3 |
| Max +26 | | 1.49 | 2040 | 44.7 |
| Max +27 | | 1.51 | 2080 | 46 |
| Max +28 | | 1.52 | 2120 | 47.3 |
| Max +29 | | 1.54 | 2160 | 48.7 |
| Max +30 | | 1.55 | 2200 | 50 |
| Max +100 | | 2.5 | 5000 | 100 |