Not to be confused with Canned Air from Learn 2 Fly.
"Can't be stopped once started, but more eco-friendly I think."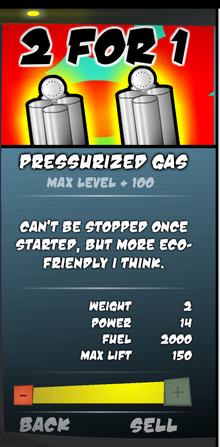 The description for Pressurized Gas.
Overview
Pressurized gas is a powerful and somewhat long-lasting boost for its price. It is used in a few speedrunner strategies presumably for the above reasons and it is similar to Canned Air which is from Learn 2 Fly. Base Cost: $30
Obtaining
Pressurized gas is part of the Starter Set.
| Level | Weight | Power | Fuel | Max Lift |
| --- | --- | --- | --- | --- |
| 1 | 2 - Fixed | 1.6 | 150 | 12 |
| 2 | | 1.7 | 225 | 13.3 |
| 3 | | 1.8 | 300 | 14.7 |
| 4 | | 1.9 | 375 | 16 |
| 5 | | 2.0 | 450 | 17.3 |
| 6 | | 2.1 | 525 | 18.7 |
| Max | | 2.2 | 600 | 20 |
| Max +1 | | 2.29 | 613 | 21 |
| Max +2 | | 2.37 | 627 | 22 |
| Max +3 | | 2.46 | 640 | 23 |
| Max +4 | | 2.55 | 653 | 24 |
| Max +5 | | 2.63 | 667 | 25 |
| Max +6 | | 2.72 | 680 | 26 |
| Max +7 | | 2.81 | 693 | 27 |
| Max +8 | | 2.89 | 707 | 28 |
| Max +9 | | 2.98 | 720 | 29 |
| Max +10 | | 3.07 | 733 | 30 |
| Max +11 | | 3.15 | 747 | 31 |
| Max +12 | | 3.24 | 760 | 32 |
| Max +13 | | 3.33 | 773 | 33 |
| Max +14 | | 3.41 | 787 | 34 |
| Max +15 | | 3.5 | 800 | 35 |
| Max +16 | | 3.59 | 813 | 36 |
| Max +17 | | 3.67 | 827 | 37 |
| Max +18 | | 3.76 | 840 | 38 |
| Max +19 | | 3.85 | 853 | 39 |
| Max +20 | | 3.93 | 857 | 40 |
| Max +21 | | 4.02 | 870 | 41 |
| Max +22 | | 4.11 | 883 | 42 |
| Max +23 | | 4.19 | 897 | 43 |
| Max +24 | | 4.28 | 920 | 44 |
| Max +25 | | 4.37 | 933 | 45 |
| Max +26 | | 4.45 | 947 | 46 |
| Max +27 | | 4.54 | 960 | 47 |
| Max +28 | | 4.63 | 973 | 48 |
| Max +29 | | 4.71 | 987 | 49 |
| Max +30 | | 4.8 | 1000 | 50 |
| Max +100 | | 14 | 2000 | 150 |