"Back in my days we had a handful of pixels and that was enough to go for the entire year"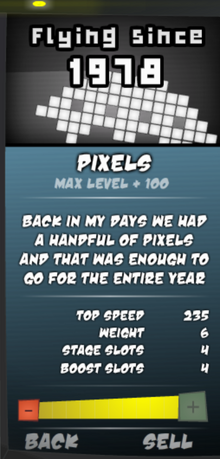 The description of Pixels.
Overview
Pixels is a body obtained fairly early on in Learn to Fly 3. It's pretty expensive and fairly slow, though very light. Base Cost: $500.
Obtaining
Pixels comes as part of the Starter Set.
| Level | Top Speed | Weight | Stage Slots | Boost Slots |
| --- | --- | --- | --- | --- |
| 1 | 15 | 10 | 2 | 2 |
| 2 | 18.5 | 10 | 2 | 2 |
| 3 | 22 | 10 | 2 | 2 |
| 4 | 25.5 | 10 | 2 | 2 |
| 5 | 29 | 8 | 3 | 2 |
| 6 | 32.5 | 8 | 3 | 2 |
| 7 | 36 | 8 | 3 | 3 |
| 8 | 39.5 | 8 | 3 | 3 |
| 9 | 43 | 6 Fixed | 4 Fixed | 3 |
| 10 | 46.5 | | | 3 |
| Max | 50 | | | 4 Fixed |
| Max+1 | 50.5 | | | |
| Max+2 | 51.2 | | | |
| Max+3 | 51.9 | | | |
| Max+4 | 52.7 | | | |
| Max+5 | 53.5 | | | |
| Max+6 | 54.3 | | | |
| Max+7 | 55.2 | | | |
| Max+8 | 56.1 | | | |
| Max+9 | 57.1 | | | |
| Max+10 | 58 | | | |
| Max+11 | 59 | | | |
| Max+12 | 60 | | | |
| Max+13 | 61 | | | |
| Max+14 | 62 | | | |
| Max+15 | 63.1 | | | |
| Max+16 | 64.1 | | | |
| Max+17 | 65.2 | | | |
| Max+18 | 66.3 | | | |
| Max+19 | 67.3 | | | |
| Max+20 | 68.4 | | | |
| Max+21 | 69.6 | | | |
| Max+22 | 70.7 | | | |
| Max+23 | 71.8 | | | |
| Max+24 | 73 | | | |
| Max+25 | 74.1 | | | |
| Max+26 | 75.3 | | | |
| Max+27 | 76.4 | | | |
| Max+28 | 77.6 | | | |
| Max+29 | 78.8 | | | |
| Max+30 | 80 | | | |
| Max+100 | 235 | | | |
Trivia
This body was added for the 40th anniversary of Space Invaders. (1978-2018)