"We hack military satellites to shoot at us, it's a flawless plan."
The description of the Orbital Cannon.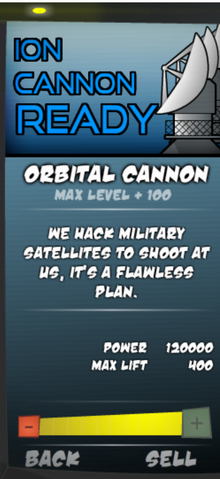 Overview
The Orbital Cannon is actually quite difficult to use. It has the same price tag as the Nuclear Reactor, but it is much better, given the player can actually master its launch sequence properly. It requires the player to aim a set of crosshairs at a moving target on a screen, which will move randomly. Based on how well they do this, they will get launched at a varying angle and power. Use of Time Warp is highly suggested. Base Cost: $5000.
Obtaining
The Orbital Cannon is a launcher obtained from a Booster Pack.
| Level | Power | Max Lift |
| --- | --- | --- |
| 1 | 3150 | 60 |
| 2 | 4087 | 66 |
| 3 | 5303 | 72 |
| 4 | 6652 | 78 |
| 5 | 8095 | 84 |
| 6 | 9614 | 90 |
| 7 | 11195 | 96 |
| 8 | 12829 | 102 |
| 9 | 14511 | 108 |
| 10 | 16236 | 114 |
| Max | 18000 | 120 |
| Max+1 | 18933 | 125 |
| Max+2 | 19867 | 129 |
| Max+3 | 20800 | 134 |
| Max+4 | 21733 | 139 |
| Max+5 | 22667 | 143 |
| Max+6 | 23600 | 148 |
| Max+7 | 24533 | 153 |
| Max+8 | 25467 | 157 |
| Max+9 | 26400 | 162 |
| Max+10 | 27333 | 167 |
| Max+11 | 28267 | 171 |
| Max+12 | 29200 | 176 |
| Max+13 | 30133 | 181 |
| Max+14 | 31067 | 185 |
| Max+15 | 32000 | 190 |
| Max+16 | 32933 | 195 |
| Max+17 | 33867 | 199 |
| Max+18 | 34800 | 204 |
| Max+19 | 35733 | 209 |
| Max+20 | 36667 | 213 |
| Max+21 | 37600 | 218 |
| Max+22 | 38533 | 223 |
| Max+23 | 39467 | 227 |
| Max+24 | 40400 | 232 |
| Max+25 | 41333 | 237 |
| Max+26 | 42267 | 241 |
| Max+27 | 42200 | 246 |
| Max+28 | 43133 | 251 |
| Max+29 | 44067 | 256 |
| Max+30 | 45000 | 260 |
| Max+100 | 120000 | 400 |