"Its technology was passed on to us by the Great One in a dream."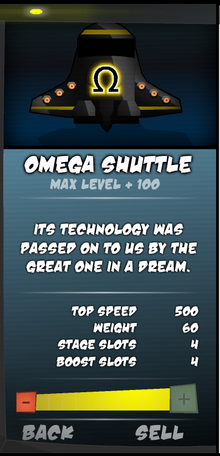 The description of the Omega Shuttle.
Overview
The Omega Shuttle is the best [and most expensive] body as one of the Six Omega Items. It is really fast, but also pretty heavy. It always allows for 4 Stage and Boost Slots, making it the only body to do so. Base Cost: $50000!?
| Level | Top Speed | Weight | Stage Slots | Boost Slots |
| --- | --- | --- | --- | --- |
| 1 | 50 | 60 Fixed | 4 Fixed | 4 Fixed |
| 2 | 54 | | | |
| 3 | 58 | | | |
| 4 | 62 | | | |
| 5 | 66 | | | |
| 6 | 70 | | | |
| 7 | 74 | | | |
| 8 | 78 | | | |
| 9 | 82 | | | |
| 10 | 86 | | | |
| Max | 90 | | | |
| Max+1 | 92.3 | | | |
| Max+2 | 95.2 | | | |
| Max+3 | 98.5 | | | |
| Max+4 | 102 | | | |
| Max+5 | 106 | | | |
| Max+6 | 110 | | | |
| Max+7 | 114 | | | |
| Max+8 | 114 | | | |
| Max+9 | 122 | | | |
| Max+10 | 126 | | | |
| Max+11 | 131 | | | |
| Max+12 | 135 | | | |
| Max+13 | 139 | | | |
| Max+14 | 144 | | | |
| Max+15 | 149 | | | |
| Max+16 | 153 | | | |
| Max+17 | 158 | | | |
| Max+18 | 163 | | | |
| Max+19 | 168 | | | |
| Max+20 | 173 | | | |
| Max+21 | 178 | | | |
| Max+22 | 183 | | | |
| Max+23 | 188 | | | |
| Max+24 | 193 | | | |
| Max+25 | 198 | | | |
| Max+26 | 204 | | | |
| Max+27 | 209 | | | |
| Max+28 | 214 | | | |
| Max+29 | 220 | | | |
| Max+30 | 225 | | | |
| Max+100 | 500 | | | |