"One balloon to end all."
The description for the Omega Balloon.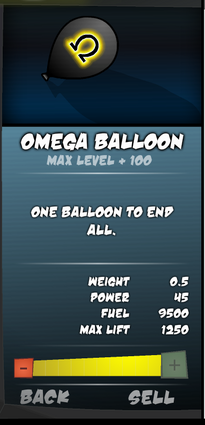 Overview
The Omega Balloon is the most expensive stage in the whole of Learn to Fly 3, with a base cost of $100000 dollars and a whopping $42416000 at Max Level +100!!! It is enormously strong, has decent fuel, is freaking fast, and is the counterpart to the Omega Rocket.
Obtaining
Being one of the Six Omega Items, the Omega Balloon is obtainable through Booster Packs, but requires card fragments to be assembled, rather than just one card.
| Level | Weight | Power | Fuel | Max Lift |
| --- | --- | --- | --- | --- |
| 1 | 0.5 Fixed | 6 | 2000 | 50 |
| 2 | | 6.4 | 2100 | 60 |
| 3 | | 6.8 | 2200 | 70 |
| 4 | | 7.2 | 2300 | 80 |
| 5 | | 7.6 | 2400 | 90 |
| 6 | | 8 | 2500 | 100 |
| 7 | | 8.4 | 2600 | 110 |
| 8 | | 8.8 | 2700 | 120 |
| 9 | | 9.2 | 2800 | 130 |
| 10 | | 9.6 | 2900 | 140 |
| Max | | 10 | 3000 | 150 |
| Max +1 | | 10.2 | 3083 | 153 |
| Max +2 | | 10.3 | 3167 | 157 |
| Max +3 | | 10.5 | 3250 | 160 |
| Max +4 | | 10.7 | 3333 | 163 |
| Max +5 | | 10.8 | 3417 | 167 |
| Max +6 | | 11 | 3500 | 170 |
| Max +7 | | 11.2 | 3583 | 173 |
| Max +8 | | 11.3 | 3667 | 177 |
| Max +9 | | 11.5 | 3750 | 180 |
| Max +10 | | 11.7 | 3833 | 183 |
| Max +11 | | 11.8 | 3917 | 187 |
| Max +12 | | 12 | 4000 | 190 |
| Max +13 | | 12.2 | 4083 | 193 |
| Max +14 | | 12.3 | 4167 | 197 |
| Max +15 | | 12.5 | 4250 | 200 |
| Max +16 | | 12.7 | 4333 | 203 |
| Max +17 | | 12.8 | 4417 | 207 |
| Max +18 | | 13 | 4500 | 210 |
| Max +19 | | 13.2 | 4583 | 213 |
| Max +20 | | 13.3 | 4667 | 217 |
| Max +21 | | 13.5 | 4750 | 220 |
| Max +22 | | 13.7 | 4833 | 223 |
| Max +23 | | 13.8 | 4917 | 227 |
| Max +24 | | 14 | 5000 | 230 |
| Max +25 | | 14.2 | 5083 | 233 |
| Max +26 | | 14.3 | 5167 | 237 |
| Max +27 | | 14.5 | 5250 | 240 |
| Max +28 | | 14.7 | 5333 | 243 |
| Max +29 | | 14.8 | 5417 | 247 |
| Max +30 | | 15 | 5500 | 250 |
| Max +100 | | 45 | 9500 | 1250 |