"Gives you several small boosts."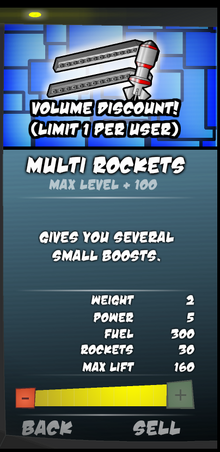 The description for the Multi Rockets
Performance
Multi Rockets are a weak boost that is useful to use between stages or to increase speed if you have a weak stage however they are too weak to be used well just on their own. Another version of the Multi Rockets are the Multi Jumps however they provide a quick boost rather than a prolonged one. Base Cost: $600
Obtaining
Multi Rockets are part of the Starter Set.
| Level | Weight | Power | Fuel | Rockets | Max Lift |
| --- | --- | --- | --- | --- | --- |
| 1 | 1 - Fixed | 1.35 | 120 | 5 | 30 |
| 2 | | 1.39 | 121 | 6 | 31 |
| 3 | | 1.43 | 122 | 7 | 32 |
| 4 | | 1.47 | 122 | 8 | 33 |
| 5 | | 1.51 | 123 | 9 | 34 |
| 6 | | 1.55 | 124 | 10 | 35 |
| 7 | | 1.59 | 125 | 11 | 36 |
| 8 | | 1.63 | 125 | 12 | 37 |
| 9 | | 1.67 | 126 | 13 | 38 |
| 10 | | 1.71 | 127 | 14 | 39 |
| Max | | 1.75 | 128 | 15 | 40 |
| Max +1 | | 1.76 | 128 | 16 | 40.7 |
| Max +2 | | 1.77 | 129 | 16 | 41.3 |
| Max +3 | | 1.78 | 130 | 16 | 42 |
| Max +4 | | 1.78 | 131 | 16 | 42.7 |
| Max +5 | | 1.79 | 131 | 17 | 43.3 |
| Max +6 | | 1.8 | 132 | 17 | 44 |
| Max +7 | | 1.81 | 133 | 17 | 44.7 |
| Max +8 | | 1.82 | 134 | 17 | 45.3 |
| Max +9 | | 1.83 | 134 | 17 | 46 |
| Max +10 | | 1.83 | 135 | 18 | 46.7 |
| Max +11 | | 1.84 | 136 | 18 | 47.3 |
| Max +12 | | 1.85 | 137 | 18 | 48 |
| Max +13 | | 1.86 | 137 | 18 | 48.7 |
| Max +14 | | 1.87 | 138 | 18 | 49.3 |
| Max +15 | | 1.88 | 139 | 19 | 50 |
| Max +16 | | 1.88 | 140 | 19 | 50.7 |
| Max +17 | | 1.89 | 140 | 19 | 51.3 |
| Max +18 | | 1.9 | 141 | 19 | 52 |
| Max +19 | | 1.91 | 142 | 19 | 52.7 |
| Max +20 | | 1.92 | 143 | 20 | 53.3 |
| Max +21 | | 1.93 | 143 | 20 | 54 |
| Max +22 | | 1.93 | 144 | 20 | 54.7 |
| Max +23 | | 1.94 | 145 | 20 | 55.3 |
| Max +24 | | 1.95 | 146 | 20 | 56 |
| Max +25 | | 1.96 | 146 | 21 | 56.7 |
| Max +26 | | 1.97 | 147 | 21 | 57.3 |
| Max +27 | | 1.98 | 148 | 21 | 58 |
| Max +28 | | 1.98 | 149 | 21 | 58.7 |
| Max +29 | | 1.99 | 149 | 21 | 59.3 |
| Max +30 | | 2 | 150 | 22 | 60 |
| Max +100 | | 5 | 300 | 30 | 160 |