"Takes speed and turns it into dollar bills thanks to science stuff."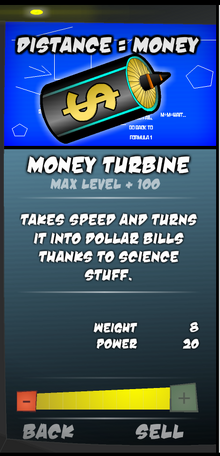 The description for the Money Turbine
Performance
The Money Turbine is a passive boost that will generate money based on either speed and/or distance (it doesn't explicitly say which description is correct). It has a some weight that will increase until the max level. Base Cost: $400
Obtaining
The Money Turbine is obtained through a Booster Pack.
| Level | Weight | Power |
| --- | --- | --- |
| 1 | 4 | 1 |
| 2 | 4.4 | 1.3 |
| 3 | 4.8 | 1.6 |
| 4 | 5.2 | 1.9 |
| 5 | 5.6 | 2.2 |
| 6 | 6 | 2.5 |
| 7 | 6.4 | 2.8 |
| 8 | 6.8 | 3.1 |
| 9 | 7.2 | 3.4 |
| 10 | 7.6 | 3.7 |
| Max | 8 - Fixed | 4 |
| Max +1 | | 4.13 |
| Max +2 | | 4.27 |
| Max +3 | | 4.4 |
| Max +4 | | 4.53 |
| Max +5 | | 4.67 |
| Max +6 | | 4.8 |
| Max +7 | | 4.93 |
| Max +8 | | 5.07 |
| Max +9 | | 5.2 |
| Max +10 | | 5.33 |
| Max +11 | | 5.47 |
| Max +12 | | 5.6 |
| Max +13 | | 5.73 |
| Max +14 | | 5.87 |
| Max +15 | | 6 |
| Max +16 | | 6.13 |
| Max +17 | | 6.27 |
| Max +18 | | 6.4 |
| Max +19 | | 6.53 |
| Max +20 | | 6.67 |
| Max +21 | | 6.8 |
| Max +22 | | 6.93 |
| Max +23 | | 7.07 |
| Max +24 | | 7.2 |
| Max +25 | | 7.33 |
| Max +26 | | 7.47 |
| Max +27 | | 7.6 |
| Max +28 | | 7.73 |
| Max +29 | | 7.87 |
| Max +30 | | 8 |
| Max +100 | | 20 |