"Extra stages fuel, but no powered launch."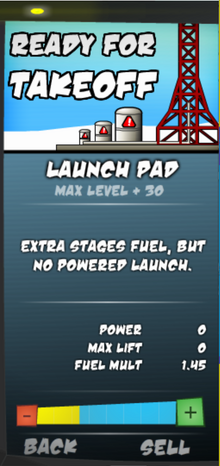 The description of the Launch Pad.
Overview
The Launch Pad is the only launcher that doesn't actually 'launch' you. What it does do is give you quite a lot of extra fuel. Quite useful in places. Base Cost: $2500.
Obtaining
The Launch Pad is obtainable via the Black Market.
| Level | Power | Max Lift | Fuel Mult |
| --- | --- | --- | --- |
| 1 | 0 Fixed | 0 Fixed | 1.25 |
| 2 | | | 1.263 |
| 3 | | | 1.275 |
| 4 | | | 1.288 |
| 5 | | | 1.3 |
| 6 | | | 1.313 |
| 7 | | | 1.325 |
| 8 | | | 1.338 |
| Max | | | 1.35 |
| Max+1 | | | 1.353 |
| Max+2 | | | 1.357 |
| Max+3 | | | 1.36 |
| Max+4 | | | 1.363 |
| Max+5 | | | 1.367 |
| Max+6 | | | 1.37 |
| Max+7 | | | 1.373 |
| Max+8 | | | 1.377 |
| Max+9 | | | 1.38 |
| Max+10 | | | 1.383 |
| Max+11 | | | 1.387 |
| Max+12 | | | 1.39 |
| Max+13 | | | 1.393 |
| Max+14 | | | 1.397 |
| Max+15 | | | 1.4 |
| Max+16 | | | 1.403 |
| Max+17 | | | 1.407 |
| Max+18 | | | 1.41 |
| Max+19 | | | 1.413 |
| Max+20 | | | 1.417 |
| Max+21 | | | 1.42 |
| Max+22 | | | 1.423 |
| Max+23 | | | 1.427 |
| Max+24 | | | 1.43 |
| Max+25 | | | 1.433 |
| Max+26 | | | 1.437 |
| Max+27 | | | 1.44 |
| Max+28 | | | 1.443 |
| Max+29 | | | 1.447 |
| Max+30 | | | 1.45 |
| Max+100 | | | 1.6 |