"It's a jet pack. What more do you need to hear? A jet pack!"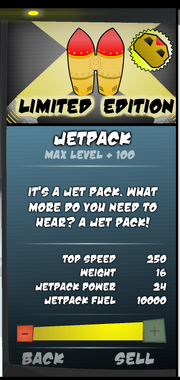 The description of the Jetpack.
Overview
The Jetpack is a self-propelling body that, unfortunately, does away with stages, replacing it with its own boost. It also gets successively heavier as you upgrade it to Max Level. But it is still a very good body to have, because it is pretty light under its rocket power.
Obtaining
The Jetpack is obtainable through a Booster Pack.
| Level | Top Speed | Weight | Jetpack Power | Jetpack Fuel | Stage Slots (hidden) | Boost Slots (hidden) |
| --- | --- | --- | --- | --- | --- | --- |
| 1 | 8 | 10 | 5 | 1000 | 0 Fixed | 2 |
| 2 | 9.2 | 13 | 5.5 | 1100 | | 2 |
| 3 | 10.4 | 13 | 6 | 1263 | | 2 |
| 4 | 11.6 | 13 | 6.5 | 1463 | | 2 |
| 5 | 12.8 | 13 | 7 | 1693 | | 2 |
| 6 | 14 | 13 | 7.5 | 1947 | | 3 |
| 7 | 15.2 | 16 Fixed | 8 | 2223 | | 3 |
| 8 | 16.4 | | 8.5 | 2517 | | 3 |
| 9 | 17.6 | | 9 | 2829 | | 3 |
| 10 | 18.8 | | 9.5 | 3157 | | 3 |
| Max | 20 | | 10 | 3500 | | 4 Fixed |
| Max+1 | 20.7 | | 10.1 | 3567 | | |
| Max+2 | 21.6 | | 10.3 | 3633 | | |
| Max+3 | 22.7 | | 10.4 | 3700 | | |
| Max+4 | 23.7 | | 10.5 | 3767 | | |
| Max+5 | 24.9 | | 10.7 | 3833 | | |
| Max+6 | 26.1 | | 10.8 | 3900 | | |
| Max+7 | 27.3 | | 10.9 | 3967 | | |
| Max+8 | 28.6 | | 11.1 | 4033 | | |
| Max+9 | 29.9 | | 11.2 | 4100 | | |
| Max+10 | 31.2 | | 11.3 | 4167 | | |
| Max+11 | 32.6 | | 11.5 | 4233 | | |
| Max+12 | 34 | | 11.6 | 4300 | | |
| Max+13 | 35.4 | | 11.7 | 4367 | | |
| Max+14 | 36.8 | | 11.9 | 4433 | | |
| Max+15 | 38.3 | | 12 | 4500 | | |
| Max+16 | 39.8 | | 12.1 | 4567 | | |
| Max+17 | 41.2 | | 12.3 | 4633 | | |
| Max+18 | 42.8 | | 12.4 | 4700 | | |
| Max+19 | 44.3 | | 12.5 | 4767 | | |
| Max+20 | 45.8 | | 12.7 | 4833 | | |
| Max+21 | 47.4 | | 12.8 | 4900 | | |
| Max+22 | 48.9 | | 12.9 | 4967 | | |
| Max+23 | 50.5 | | 13.1 | 5033 | | |
| Max+24 | 52.1 | | 13.2 | 5100 | | |
| Max+25 | 53.7 | | 13.3 | 5167 | | |
| Max+26 | 55.4 | | 13.5 | 5233 | | |
| Max+27 | 57 | | 13.6 | 5300 | | |
| Max+28 | 58.7 | | 13.7 | 5567 | | |
| Max+29 | 60.3 | | 13.9 | 5433 | | |
| Max+100 | 250 | | 24 | 10000 | | |