"Increases control and top speed and reduced wind effect."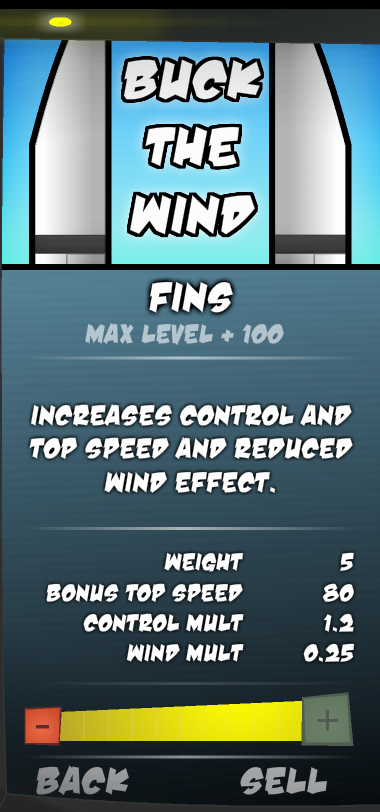 The description for the Fins.
Overview
Fins are used to increase top speed, your control and reduce the effects of wind. However, they will continue to increase in weight until max level. The fins are very useful when using any fast body as the top speed can increase a lot as well as reducing wind by more than 50%. Due to the low control multiplier however, it is not recommended to buy the fins for it. Base Cost: $50
Obtaining
Fins are part of the Starter Set.
| Level | Weight | Bonus Top Speed | Control Mult | Wind Mult |
| --- | --- | --- | --- | --- |
| 1 | 3 | 1 | 1.04 | 0.9 |
| 2 | 3.2 | 1.9 | 1.04 | 0.87 |
| 3 | 3.4 | 2.8 | 1.05 | 0.84 |
| 4 | 3.6 | 3.7 | 1.05 | 0.81 |
| 5 | 3.8 | 4.6 | 1.06 | 0.78 |
| 6 | 4 | 5.5 | 1.06 | 0.75 |
| 7 | 4.2 | 6.4 | 1.06 | 0.72 |
| 8 | 4.4 | 7.3 | 1.07 | 0.69 |
| 9 | 4.6 | 8.2 | 1.07 | 0.66 |
| 10 | 4.8 | 9.1 | 1.08 | 0.63 |
| Max | 5 | 10 | 1.08 | 0.6 |
| Max +1 | | 10.7 | 1.08 | 0.6 |
| Max +2 | | 11.3 | 1.08 | 0.59 |
| Max +3 | | 12 | 1.08 | 0.59 |
| Max +4 | | 12.7 | 1.09 | 0.59 |
| Max +5 | | 13.3 | 1.09 | 0.58 |
| Max +6 | | 14 | 1.09 | 0.58 |
| Max +7 | | 14.7 | 1.09 | 0.58 |
| Max +8 | | 15.3 | 1.09 | 0.57 |
| Max +9 | | 16 | 1.09 | 0.57 |
| Max +10 | | 16.7 | 1.09 | 0.57 |
| Max +11 | | 17.3 | 1.09 | 0.56 |
| Max +12 | | 18 | 1.1 | 0.56 |
| Max +13 | | 18.7 | 1.1 | 0.56 |
| Max +14 | | 19.3 | 1.1 | 0.55 |
| Max +15 | | 20 | 1.1 | 0.55 |
| Max +16 | | 20.7 | 1.1 | 0.55 |
| Max +17 | | 21.3 | 1.1 | 0.54 |
| Max +18 | | 22 | 1.1 | 0.54 |
| Max +19 | | 22.7 | 1.11 | 0.54 |
| Max +20 | | 23.3 | 1.11 | 0.53 |
| Max +21 | | 24 | 1.11 | 0.53 |
| Max +22 | | 24.7 | 1.11 | 0.53 |
| Max +23 | | 25.3 | 1.11 | 0.52 |
| Max +24 | | 26 | 1.11 | 0.52 |
| Max +25 | | 26.7 | 1.11 | 0.52 |
| Max +26 | | 27.3 | 1.11 | 0.51 |
| Max +27 | | 28 | 1.12 | 0.51 |
| Max +28 | | 28.7 | 1.12 | 0.51 |
| Max +29 | | 29.3 | 1.12 | 0.5 |
| Max +30 | | 30 | 1.12 | 0.5 |
| Max +100 | | 80 | 1.2 | 0.25 |