"Might or might not be stolen from human space shuttles."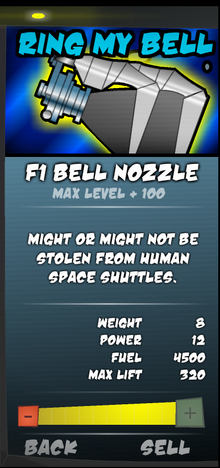 The description for the F1 Bell Nozzle.
Overview
The F1 Bell Nozzle is the final boost of the Starter Set. It is pretty expensive, with its base cost set at $4500. It also has a pretty strong boost (though it's not very tolerant of heavy loads). However, it's very short-lived - it has very little fuel for its price.
| Level | Weight | Power | Fuel | Max Lift |
| --- | --- | --- | --- | --- |
| 1 | 8 Fixed | 3 | 400 | 65 |
| 2 | | 3.1 | 435 | 68.5 |
| 3 | | 3.2 | 470 | 72 |
| 4 | | 3.3 | 505 | 75.5 |
| 5 | | 3.4 | 540 | 79 |
| 6 | | 3.5 | 575 | 82.5 |
| 7 | | 3.6 | 610 | 86 |
| 8 | | 3.7 | 645 | 89.5 |
| 9 | | 3.8 | 680 | 93 |
| 10 | | 3.9 | 715 | 96.5 |
| Max | | 4 | 750 | 100 |
| Max+1 | | 4.07 | 798 | 101 |
| Max+2 | | 4.13 | 847 | 101 |
| Max+3 | | 4.2 | 8.95 | 102 |
| Max+4 | | 4.27 | 943 | 103 |
| Max+5 | | 4.33 | 992 | 103 |
| Max+6 | | 4.4 | 1040 | 104 |
| Max+7 | | 4.47 | 1088 | 105 |
| Max+8 | | 4.53 | 1137 | 105 |
| Max+9 | | 4.6 | 1185 | 106 |
| Max+10 | | 4.67 | 1233 | 107 |
| Max+11 | | 4.75 | 1282 | 107 |
| Max+12 | | 4.8 | 1330 | 108 |
| Max+13 | | 4.87 | 1378 | 109 |
| Max+14 | | 4.93 | 1427 | 109 |
| Max+15 | | 5 | 1475 | 110 |
| Max+16 | | 5.07 | 1523 | 111 |
| Max+17 | | 5.13 | 1572 | 111 |
| Max+18 | | 5.2 | 1620 | 112 |
| Max+19 | | 5.27 | 1668 | 113 |
| Max+20 | | 5.33 | 1717 | 113 |
| Max+21 | | 5.4 | 1765 | 114 |
| Max+22 | | 5.47 | 1813 | 115 |
| Max+23 | | 5.53 | 1862 | 115 |
| Max+24 | | 5.6 | 1910 | 116 |
| Max+25 | | 5.67 | 1958 | 117 |
| Max+26 | | 5.73 | 2007 | 117 |
| Max+27 | | 5.8 | 2055 | 118 |
| Max+28 | | 5.87 | 2103 | 119 |
| Max+29 | | 5.93 | 2152 | 119 |
| Max+30 | | 6 | 2200 | 120 |
| Max+100 | | 12 | 4500 | 320 |