"The box goes boom and the penguin goes up."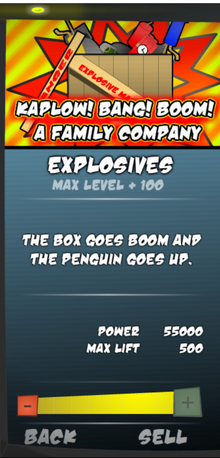 The description of the Explosives.
Overview
A nice and easy launcher that doesn't even have an active launch sequence. However it's a little intolerant of weight and thus doesn't work well for heavy ships. It's one of the default launchers. Base Cost: $800.
| Level | Power | Max Lift |
| --- | --- | --- |
| 1 | 950 | 15 |
| 2 | 1597 | 19.4 |
| 3 | 2437 | 23.8 |
| 4 | 3369 | 28.1 |
| 5 | 4367 | 32.5 |
| 6 | 5416 | 36.9 |
| 7 | 6508 | 41.3 |
| 8 | 7638 | 45.6 |
| Max | 8800 | 50 |
| Max+1 | 9390 | 51.7 |
| Max+2 | 9980 | 53.3 |
| Max+3 | 10570 | 55 |
| Max+4 | 11160 | 56.7 |
| Max+5 | 11750 | 58.3 |
| Max+6 | 12340 | 60 |
| Max+7 | 12930 | 61.7 |
| Max+8 | 13520 | 63.3 |
| Max+9 | 14110 | 65 |
| Max+10 | 14700 | 66.7 |
| Max+11 | 15290 | 68.3 |
| Max+12 | 15880 | 70 |
| Max+13 | 16470 | 71.7 |
| Max+14 | 17060 | 73.3 |
| Max+15 | 17650 | 75 |
| Max+16 | 18240 | 76.7 |
| Max+17 | 18830 | 78.3 |
| Max+18 | 19240 | 80 |
| Max+19 | 20010 | 81.7 |
| Max+20 | 20610 | 83.3 |
| Max+21 | 21190 | 85 |
| Max+22 | 21780 | 86.7 |
| Max+23 | 22370 | 88.3 |
| Max+24 | 22960 | 90 |
| Max+25 | 23550 | 91.7 |
| Max+26 | 24140 | 93.3 |
| Max+27 | 24730 | 95 |
| Max+28 | 25320 | 96.7 |
| Max+29 | 25910 | 98.3 |
| Max+30 | 26500 | 100 |
| Max+100 | 55000 | 500 |