"Increase stage power for a short period!"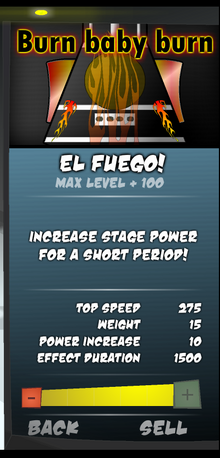 The description of El Fuego!.
Overview
El Fuego! is a body that is obtained with a card pack. It increases stage power drastically for a short period, as outlined in the description. It has more effect on the stage power than the 'Secret Ingredient' (well, the practical version. Some people grind thousands of BP to pour into Bonus Shop upgrades, like myself.). It's also fairly light. Base Cost: $1000.
| | | | | | | |
| --- | --- | --- | --- | --- | --- | --- |
| Level | Top Speed | Weight | Power Increase | Effect Duration | Stage Slots (hidden) | Boost Slots (hidden) |
| 1 | 15 | 12 | 2 | 250 | 2 | 2 |
| 2 | 18 | 15 Fixed | 2.2 | 300 | 2 | 2 |
| 3 | 21 | | 2.4 | 350 | 3 | 2 |
| 4 | 24 | | 2.6 | 400 | 3 | 2 |
| 5 | 27 | | 2.8 | 450 | 3 | 3 |
| Max | 30 | | 3 | 500 | 3 | 3 |
| Max+1 | 30.8 | | 3.03 | 508 | 3 | 3 |
| Max+2 | 31.7 | | 3.07 | 517 | 3 | 3 |
| Max+3 | 32.8 | | 3.1 | 525 | 3 | 3 |
| Max+4 | 34 | | 3.13 | 533 | 3 | 4 Fixed |
| Max+5 | 35.2 | | 3.17 | 542 | 3 | |
| Max+6 | 36.5 | | 3.2 | 550 | 3 | |
| Max+7 | 37.8 | | 3.23 | 558 | 3 | |
| Max+8 | 39.2 | | 3.27 | 567 | 3 | |
| Max+9 | 40.6 | | 3.3 | 575 | 3 | |
| Max+10 | 42 | | 3.33 | 583 | 3 | |
| Max+11 | 43.5 | | 3.37 | 592 | 3 | |
| Max+12 | 45 | | 3.37 | 592 | 3 | |
| Max+13 | 46.5 | | 3.43 | 608 | 3 | |
| Max+14 | 48 | | 3.47 | 617 | 3 | |
| Max+15 | 49.6 | | 3.5 | 625 | 3 | |
| Max+16 | 51.2 | | 3.53 | 633 | 3 | |
| Max+17 | 52.8 | | 3.57 | 642 | 3 | |
| Max+18 | 54.4 | | 3.6 | 650 | 3 | |
| Max+19 | 56 | | 3.63 | 658 | 3 | |
| Max+20 | 57.7 | | 3.67 | 667 | 3 | |
| Max+21 | 59.3 | | 3.7 | 675 | 3 | |
| Max+22 | 61 | | 3.73 | 683 | 3 | |
| Max+23 | 62.7 | | 3.77 | 692 | 3 | |
| Max+24 | 64.4 | | 3.8 | 700 | 3 | |
| Max+25 | 66.2 | | 3.83 | 708 | 3 | |
| Max+26 | 67.9 | | 3.87 | 717 | 3 | |
| Max+27 | 69.7 | | 3.9 | 725 | 3 | |
| Max+28 | 71.4 | | 3.93 | 733 | 3 | |
| Max+29 | 73.2 | | 3.97 | 742 | 3 | |
| Max+30 | 75 | | 4 | 750 | 3 | |
| Max+100 | 275 | | 10 | 1500 | 4 | |