"Increase stage power for a short period!"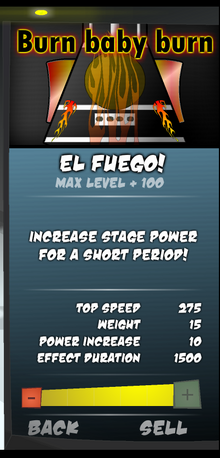 The description of El Fuego!.
Overview
El Fuego! is a body that is obtained with a card pack. It increases stage power drastically for a short period, as outlined in the description. It has more effect on the stage power than the 'Secret Ingredient' (This may change depending on upgrade level of both). It's also fairly light. It's super useful for breaking the moon on Max+30 with 3 Max+30 sonic bursts, 3 Max+30 Fuel Canisters and 1 Max+30 Dark Matter. It's useful for hitting the Height Cap at Max+100 with 4 Max+100 Sonic Bursts, 2/3 Max+100 Fuel Canisters and 1/2 Max+100 Dark Matter Base Cost: $1000.
| | | | | | | |
| --- | --- | --- | --- | --- | --- | --- |
| Level | Top Speed | Weight | Power Increase | Effect Duration | Stage Slots (hidden) | Boost Slots (hidden) |
| 1 | 15 | 12 | 2 | 250 | 2 | 2 |
| 2 | 18 | 15 Fixed | 2.2 | 300 | 2 | 2 |
| 3 | 21 | | 2.4 | 350 | 3 | 2 |
| 4 | 24 | | 2.6 | 400 | 3 | 2 |
| 5 | 27 | | 2.8 | 450 | 3 | 3 |
| Max | 30 | | 3 | 500 | 3 | 3 |
| Max+1 | 30.8 | | 3.03 | 508 | 3 | 3 |
| Max+2 | 31.7 | | 3.07 | 517 | 3 | 3 |
| Max+3 | 32.8 | | 3.1 | 525 | 3 | 3 |
| Max+4 | 34 | | 3.13 | 533 | 3 | 4 Fixed |
| Max+5 | 35.2 | | 3.17 | 542 | 3 | |
| Max+6 | 36.5 | | 3.2 | 550 | 3 | |
| Max+7 | 37.8 | | 3.23 | 558 | 3 | |
| Max+8 | 39.2 | | 3.27 | 567 | 3 | |
| Max+9 | 40.6 | | 3.3 | 575 | 3 | |
| Max+10 | 42 | | 3.33 | 583 | 3 | |
| Max+11 | 43.5 | | 3.37 | 592 | 3 | |
| Max+12 | 45 | | 3.37 | 592 | 3 | |
| Max+13 | 46.5 | | 3.43 | 608 | 3 | |
| Max+14 | 48 | | 3.47 | 617 | 3 | |
| Max+15 | 49.6 | | 3.5 | 625 | 3 | |
| Max+16 | 51.2 | | 3.53 | 633 | 3 | |
| Max+17 | 52.8 | | 3.57 | 642 | 3 | |
| Max+18 | 54.4 | | 3.6 | 650 | 3 | |
| Max+19 | 56 | | 3.63 | 658 | 3 | |
| Max+20 | 57.7 | | 3.67 | 667 | 3 | |
| Max+21 | 59.3 | | 3.7 | 675 | 3 | |
| Max+22 | 61 | | 3.73 | 683 | 3 | |
| Max+23 | 62.7 | | 3.77 | 692 | 3 | |
| Max+24 | 64.4 | | 3.8 | 700 | 3 | |
| Max+25 | 66.2 | | 3.83 | 708 | 3 | |
| Max+26 | 67.9 | | 3.87 | 717 | 3 | |
| Max+27 | 69.7 | | 3.9 | 725 | 3 | |
| Max+28 | 71.4 | | 3.93 | 733 | 3 | |
| Max+29 | 73.2 | | 3.97 | 742 | 3 | |
| Max+30 | 75 | | 4 | 750 | 3 | |
| Max+100 | 275 | | 10 | 1500 | 4 | |