"Got so pissed at us that he wanted to proved dodos fly too."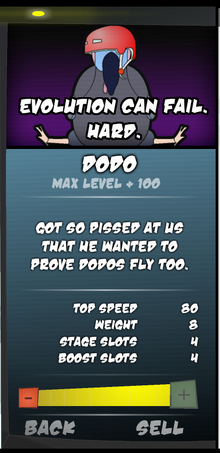 The description of the dodo.
Overview
The Dodo is the reward for beating Learn to Fly 3. It is a pretty bad body, and is mostly in the game for hilarity. That's it. This body is a rip-off.
| Level | Top Speed | Weight | Stage Slots | Boost Slots |
| --- | --- | --- | --- | --- |
| 1 | 12 | 8 Fixed | 0 | 0 |
| 2 | 14.3 | | 0 | 0 |
| 3 | 16.6 | | 0 | 1 |
| 4 | 18.9 | | 0 | 1 |
| 5 | 21.2 | | 0 | 1 |
| 6 | 23.5 | | 1 | 1 |
| 7 | 25.8 | | 1 | 2 |
| 8 | 28.1 | | 1 | 2 |
| 9 | 30.4 | | 2 | 2 |
| 10 | 32.7 | | 2 | 2 |
| Max | 35 | | 3 | 3 |
| Max+1 | 35.5 | | 3 | 3 |
| Max+2 | 36 | | 3 | 3 |
| Max+3 | 36.5 | | 3 | 3 |
| Max+4 | 37 | | 3 | 3 |
| Max+5 | 37.5 | | 3 | 4 Fixed |
| Max+6 | 38 | | 3 | |
| Max+7 | 38.5 | | 3 | |
| Max+8 | 39 | | 3 | |
| Max+9 | 39.5 | | 3 | |
| Max+10 | 40 | | 4 Fixed | |
| Max+11 | 40.5 | | | |
| Max+12 | 41 | | | |
| Max+13 | 41.5 | | | |
| Max+14 | 42 | | | |
| Max+15 | 42.5 | | | |
| Max+16 | 43 | | | |
| Max+17 | 43.5 | | | |
| Max+18 | 44 | | | |
| Max+19 | 44.5 | | | |
| Max+20 | 45 | | | |
| Max+21 | 45.5 | | | |
| Max+22 | 46 | | | |
| Max+23 | 46.5 | | | |
| Max+24 | 47 | | | |
| Max+25 | 47.5 | | | |
| Max+26 | 48 | | | |
| Max+27 | 48.5 | | | |
| Max+28 | 49 | | | |
| Max+29 | 49.5 | | | |
| Max+30 | 50 | | | |
| Max+100 | 80 | | | |