Overview
Dark Matter originates from Learn 2 Fly, but was re-released to Learn to Fly 3 bearing completely different aesthetics and an overall different purpose. This article covers both versions.
Learn 2 Fly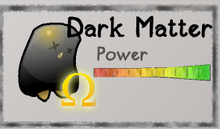 Dark Matter is rated a solid ten for power. It is a regular payload.
Obtaining
The Dark Matter requires the Omega Catalog to be purchased in the Bonus Shop, at which point it is then available in the shop for $25000.
Description
"Very little is known about dark matter, but penguins have been using it for years to crush obstacles that stood in their way.
Learn to Fly 3
"Reduces your weight because it looks pretty high-tech according to us."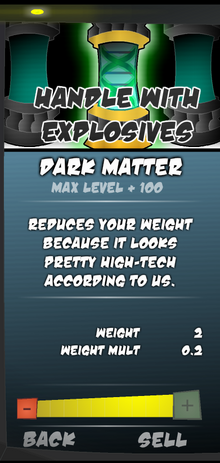 The description for Dark Matter
Performance
Dark Matter is very similar to the Pingu Balloon in that it is a passive boost that will reduce your weight however this is much more useful later in the game. Although Dark matter costs more, it is much more useful for heavy loads since it takes a percentage of weight away instead of just subtracting it. Ironically it has a weight of 2. The Dark Matter boost does reduce the effectiveness of the Brick and The Omega Brick in Payload mode. Base Cost: $800
| Level | Weight | Power |
| --- | --- | --- |
| 1 | 2 - Fixed | 0.9 |
| 2 | | 0.88 |
| 3 | | 0.85 |
| 4 | | 0.83 |
| 5 | | 0.8 |
| 6 | | 0.78 |
| 7 | | 0.75 |
| 8 | | 0.73 |
| 9 | | 0.7 |
| 10 | | 0.67 |
| Max | | 0.65 |
| Max +1 | | 0.65 |
| Max +2 | | 0.64 |
| Max +3 | | 0.64 |
| Max +4 | | 0.63 |
| Max +5 | | 0.63 |
| Max +6 | | 0.62 |
| Max +7 | | 0.62 |
| Max +8 | | 0.61 |
| Max +9 | | 0.61 |
| Max +10 | | 0.6 |
| Max +11 | | 0.6 |
| Max +12 | | 0.59 |
| Max +13 | | 0.59 |
| Max +14 | | 0.58 |
| Max +15 | | 0.58 |
| Max +16 | | 0.57 |
| Max +17 | | 0.57 |
| Max +18 | | 0.56 |
| Max +19 | | 0.56 |
| Max +20 | | 0.55 |
| Max +21 | | 0.55 |
| Max +22 | | 0.54 |
| Max +23 | | 0.54 |
| Max +24 | | 0.53 |
| Max +25 | | 0.53 |
| Max +26 | | 0.52 |
| Max +27 | | 0.52 |
| Max +28 | | 0.51 |
| Max +29 | | 0.51 |
| Max +30 | | 0.5 |
| Max +100 | | 0.2 |