Not to be confused with Classic Mode from Learn to Fly 3.
Classic Mode is the gamemode that remakes the gameplay from Learn to Fly. The difference between Classic Mode and Story Mode is that there are no obstacles to be destroyed, thereby eliminating about ten challenges from the Challenges List. Additionally, it also no longer has 'Impossible' difficulty challenges as those are all obstacle-related.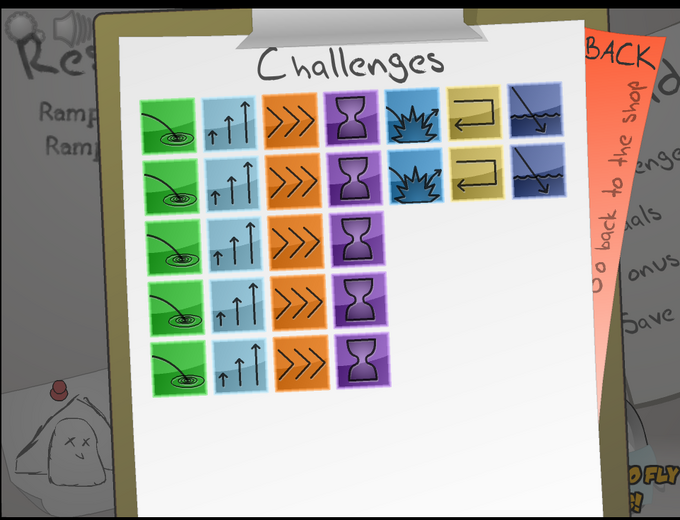 Classic Mode is beaten by flying to a distance of 6000 feet(similar to the goal of Learn to Fly).
| Challenge | Level | Requirement | Difficulty | Reward |
| --- | --- | --- | --- | --- |
| Distance | 1 | 100 feet in distance | | $30 |
| | 2 | 350 feet in distance | | $75 |
| | 3 | 1000 feet in distance | | $350 |
| | 4 | 2000 feet in distance | | $800 |
| | 5 | 4000 feet in distance | | $1500 |
| Altitude | 1 | 10 feet in altitude | | $30 |
| | 2 | 35 feet in altitude | | $75 |
| | 3 | 100 feet in altitude | | $350 |
| | 4 | 200 feet in altitude | | $800 |
| | 5 | 400 feet in altitude | | $1500 |
| Speed | 1 | Reach 35 mph | | $30 |
| | 2 | Reach 75 mph | | $75 |
| | 3 | Reach 125 mph | | $350 |
| | 4 | Reach 250 mph | | $800 |
| | 5 | Reach 450 mph | | $1500 |
| Duration | 1 | 10 seconds in flight | | $30 |
| | 2 | 25 seconds in flight | | $75 |
| | 3 | 45 seconds in flight | | $350 |
| | 4 | 60 seconds in flight | | $800 |
| | 5 | 90 seconds in flight | | $1500 |
| Bounce | 1 | Bounce on water twice in a single day | | $75 |
| | 2 | Bounce on water ten times in a single day | | $800 |
| Reverse | 1 | Fly to a distance of -100 feet | | $75 |
| | 2 | Fly to a distance of -2500 feet | | $1500 |
| Diving | 1 | Dive to an altitude of -15 feet | | $75 |
| | 2 | Dive to an altitude of -50 feet | | $1500 |