"Takes a little effort, but gets the job done."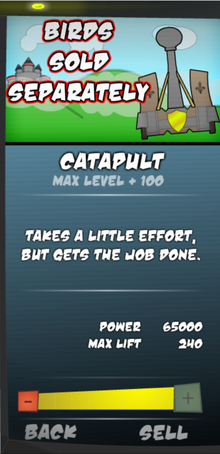 The description of the Catapult.
Overview
The catapult is an overall pretty decent launcher as it gives good launch power for an extremely easy launch sequence. The launch sequence involves spamming any key until the catapult arm does not get any lower, then pausing to let it go. For this purpose, it is probably better not to use fast-forward. Base Cost: 600$.
| Level | Power | Max Lift |
| --- | --- | --- |
| 1 | 700 | 30 |
| 2 | 1187 | 33.8 |
| 3 | 1745 | 37.5 |
| 4 | 2332 | 41.3 |
| 5 | 2939 | 45 |
| 6 | 3562 | 48.8 |
| 7 | 4198 | 52.5 |
| 8 | 4844 | 56.3 |
| Max | 5500 | 60 |
| Max+1 | 6317 | 61 |
| Max+2 | 7133 | 62 |
| Max+3 | 7950 | 63 |
| Max+4 | 8767 | 64 |
| Max+5 | 9583 | 65 |
| Max+6 | 10400 | 66 |
| Max+7 | 11217 | 67 |
| Max+8 | 12033 | 68 |
| Max+9 | 12850 | 69 |
| Max+10 | 13667 | 70 |
| Max+11 | 14483 | 71 |
| Max+12 | 15300 | 72 |
| Max+13 | 16117 | 73 |
| Max+14 | 16933 | 74 |
| Max+15 | 17750 | 75 |
| Max+16 | 18567 | 76 |
| Max+17 | 19383 | 77 |
| Max+18 | 20200 | 78 |
| Max+19 | 21017 | 79 |
| Max+20 | 21833 | 80 |
| Max+21 | 22650 | 81 |
| Max+22 | 23467 | 82 |
| Max+23 | 24283 | 83 |
| Max+24 | 25100 | 84 |
| Max+25 | 25917 | 85 |
| Max+26 | 26733 | 86 |
| Max+27 | 27550 | 87 |
| Max+28 | 28367 | 88 |
| Max+29 | 29183 | 89 |
| Max+30 | 30000 | 90 |
| Max+100 | 65000 | 240 |
Trivia
The meme used in the sidebar makes a reference to Angry Birds. (Although the slingshot would have been more appropriate)