"With the power of extra money!"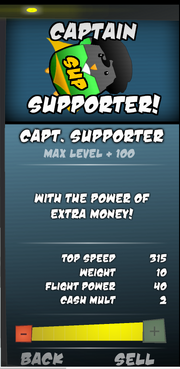 The description of Capt. Supporter.
Overview
Capt. Supporter is a body that was handed out by Light Bringer Games to supporters. It is a slightly nerfed version of the Hero Costume. This body trades off some flight power and flight time for more money after each day.*
Surprisingly enough, the flight time of Capt. Supporter is not known. It is not listed in the sidebar statistics.
| Level | Top Speed | Weight | Flight Power | Cash Mult | Stage Slots (hidden) | Boost Slots (hidden) |
| --- | --- | --- | --- | --- | --- | --- |
| 1 | 15 | 10 Fixed | 8 | 1.05 | 0 Fixed | 0 |
| 2 | 16 | | 8.89 | 1.06 | | 0 |
| 3 | 17 | | 9.78 | 1.07 | | 0 |
| 4 | 18 | | 10.7 | 1.08 | | 0 |
| 5 | 19 | | 11.6 | 1.09 | | 0 |
| 6 | 20 | | 12.4 | 1.11 | | 1 |
| 7 | 21 | | 13.3 | 1.12 | | 1 |
| 8 | 22 | | 14.2 | 1.14 | | 0 |
| 9 | 23 | | 15.1 | 1.16 | | 0 |
| 10 | 24 | | 16 | 1.18 | | 0 |
| Max | 25 | | 20 | 1.2 | | 2 |
| Max+1 | 25.8 | | 20.2 | 1.21 | | 2 |
| Max+2 | 26.7 | | 20.4 | 1.22 | | 2 |
| Max+3 | 27.5 | | 20.6 | 1.23 | | 2 |
| Max+4 | 28.3 | | 20.8 | 1.24 | | 2 |
| Max+5 | 29.2 | | 21 | 1.25 | | 3 |
| Max+6 | 30 | | 21.2 | 1.26 | | 3 |
| Max+7 | 30.8 | | 21.4 | 1.27 | | 3 |
| Max+8 | 31.7 | | 21.6 | 1.28 | | 3 |
| Max+9 | 32.5 | | 21.8 | 1.29 | | 3 |
| Max+10 | 33.3 | | 22 | 1.3 | | 3 |
| Max+11 | 34.2 | | 22.2 | 1.31 | | 3 |
| Max+12 | 35 | | 22.4 | 1.32 | | 3 |
| Max+13 | 35.8 | | 22.6 | 1.33 | | 3 |
| Max+14 | 36.7 | | 22.8 | 1.34 | | 3 |
| Max+15 | 37.5 | | 23 | 1.35 | | 3 |
| Max+16 | 38.3 | | 23.2 | 1.36 | | 3 |
| Max+17 | 39.2 | | 23.4 | 1.37 | | 3 |
| Max+18 | 40 | | 23.6 | 1.38 | | 3 |
| Max+19 | 40.8 | | 23.8 | 1.39 | | 3 |
| Max+20 | 41.7 | | 24 | 1.4 | | 3 |
| Max+21 | 42.5 | | 24.2 | 1.41 | | 3 |
| Max+22 | 43.3 | | 24.4 | 1.42 | | 3 |
| Max+23 | 44.2 | | 24.6 | 1.43 | | 3 |
| Max+24 | 45 | | 24.8 | 1.44 | | 3 |
| Max+25 | 45.8 | | 25 | 1.45 | | 3 |
| Max+26 | 46.7 | | 25.2 | 1.46 | | 3 |
| Max+27 | 47.5 | | 25.4 | 1.47 | | 3 |
| Max+28 | 48.3 | | 25.6 | 1.48 | | 3 |
| Max+29 | 49.2 | | 25.8 | 1.49 | | 3 |
| Max+30 | 50 | | 26 | 1.5 | | 4 Fixed |
| Max+100 | 315 | | 40 | 2 | | |