"Instead of strapping the rocket on to you, we shoot right in your face! Genius."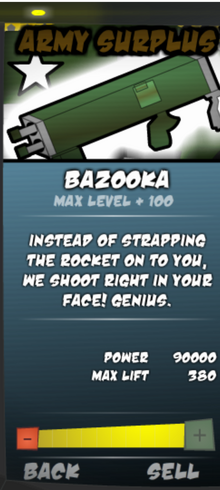 The description of the Bazooka.
Overview
The Bazooka requires the player to use the launcher at the right angle which will cause the bazooka to hit directly underneath the ship. It's a good launcher when used correctly.
Obtaining
The Bazooka is obtained from a card pack.
| Level | Power | Max Lift |
| --- | --- | --- |
| 1 | 2200 | 35 |
| 2 | 3380 | 39.5 |
| 3 | 4560 | 44 |
| 4 | 5740 | 48.5 |
| 5 | 6920 | 53 |
| 6 | 8100 | 57.5 |
| 7 | 9280 | 62 |
| 8 | 10460 | 66.5 |
| 9 | 11640 | 71 |
| 10 | 12820 | 75.5 |
| Max | 14000 | 80 |
| Max+1 | 14833 | 81.7 |
| Max+2 | 15667 | 83.3 |
| Max+3 | 16500 | 85 |
| Max+4 | 17333 | 86.7 |
| Max+5 | 18167 | 88.3 |
| Max+6 | 19000 | 90 |
| Max+7 | 19833 | 91.7 |
| Max+8 | 20667 | 93.3 |
| Max+9 | 21500 | 95 |
| Max+10 | 22333 | 96.7 |
| Max+11 | 23167 | 98.3 |
| Max+12 | 24000 | 100 |
| Max+13 | 24833 | 102 |
| Max+14 | 25667 | 103 |
| Max+15 | 26500 | 105 |
| Max+16 | 27333 | 107 |
| Max+17 | 28167 | 108 |
| Max+18 | 29000 | 110 |
| Max+19 | 29833 | 112 |
| Max+20 | 30667 | 113 |
| Max+21 | 31500 | 115 |
| Max+22 | 32333 | 117 |
| Max+23 | 33167 | 118 |
| Max+24 | 34000 | 120 |
| Max+25 | 34833 | 122 |
| Max+26 | 35667 | 123 |
| Max+27 | 36500 | 125 |
| Max+28 | 37333 | 127 |
| Max+29 | 38167 | 128 |
| Max+30 | 39000 | 130 |
| Max+100 | 90000 | 380 |