"Who said propellers were weak?"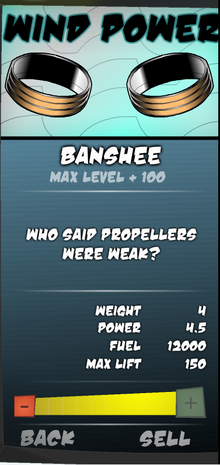 The description for the Banshee.
Overview
The Banshee is pretty weak and fairly slow in general. It is pretty heavy, but has good fuel (though not nearly as good as the Solar Turbine). It is also unaffected by altitude, making it good when you have a lame launcher. Base Cost: $1750.
Obtaining
The Banshee is part of the Starter Set.
| Level | Weight | Power | Fuel | Max Lift |
| --- | --- | --- | --- | --- |
| 1 | 4 Fixed | 1.4 | 1400 | 20 |
| 2 | | 1.43 | 1540 | 22 |
| 3 | | 1.46 | 1680 | 24 |
| 4 | | 1.49 | 1820 | 26 |
| 5 | | 1.52 | 1960 | 28 |
| 6 | | 1.55 | 2100 | 30 |
| 7 | | 1.58 | 2240 | 32 |
| 8 | | 1.61 | 2380 | 34 |
| 9 | | 1.64 | 2520 | 36 |
| 10 | | 1.67 | 2660 | 38 |
| Max | | 1.7 | 2800 | 40 |
| Max +2 | | 1.72 | 2875 | 41 |
| Max +3 | | 1.75 | 2950 | 42 |
| Max +4 | | 1.77 | 3025 | 43 |
| Max +5 | | 1.79 | 3100 | 44 |
| Max +6 | | 1.82 | 3175 | 45 |
| Max +7 | | 1.84 | 3250 | 46 |
| Max +8 | | 1.86 | 3325 | 47 |
| Max +9 | | 1.89 | 3400 | 48 |
| Max +10 | | 1.91 | 3475 | 49 |
| Max +11 | | 1.93 | 3550 | 50 |
| Max +12 | | 1.96 | 3625 | 51 |
| Max +13 | | 1.98 | 3700 | 52 |
| Max +14 | | 2 | 3775 | 53 |
| Max +15 | | 2.03 | 3850 | 54 |
| Max +16 | | 2.05 | 3925 | 55 |
| Max +17 | | 2.07 | 4000 | 56 |
| Max +18 | | 2.1 | 4075 | 57 |
| Max +19 | | 2.12 | 4150 | 58 |
| Max +21 | | 2.14 | 4225 | 59 |
| Max +22 | | 2.17 | 4300 | 60 |
| Max +23 | | 2.19 | 4375 | 61 |
| Max +24 | | 2.21 | 4450 | 62 |
| Max +25 | | 2.24 | 4525 | 63 |
| Max +26 | | 2.26 | 4600 | 64 |
| Max +27 | | 2.28 | 4675 | 65 |
| Max +28 | | 2.31 | 4750 | 66 |
| Max +29 | | 2.33 | 4825 | 67 |
| Max +30 | | 2.35 | 4900 | 68 |
| Max +100 | | 4.5 | 12000 | 150 |