Not to be confused with the Auxiliary Boosters.
"A very simple boost unit."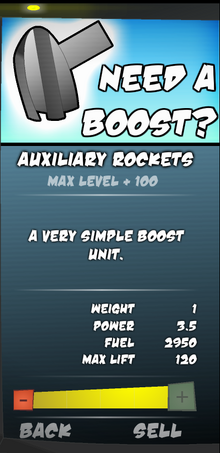 The description for the Auxiliary Rockets.
Overview
The Auxiliary Rockets are a set of cheap boosters that are used to boost your speed. It is useful earlier in the game due to their relatively good power to price ratio. Base Cost: $20
Obtaining
The Auxiliary Rockets are part of the Starter Set.
| Level | Weight | Power | Fuel | Max Lift |
| --- | --- | --- | --- | --- |
| 1 | 1 Fixed | 1 | 300 | 15 |
| 2 | | 1.05 | 388 | 17.5 |
| 3 | | 1.1 | 475 | 20 |
| 4 | | 1.15 | 563 | 22.5 |
| Max | | 1.2 | 650 | 25 |
| Max +1 | | 1.22 | 685 | 25.8 |
| Max +2 | | 1.24 | 720 | 26.7 |
| Max +3 | | 1.26 | 755 | 27.5 |
| Max +4 | | 1.29 | 790 | 28.3 |
| Max +5 | | 1.31 | 825 | 29.2 |
| Max +6 | | 1.33 | 860 | 30 |
| Max +7 | | 1.35 | 895 | 30.8 |
| Max +8 | | 1.37 | 930 | 31.7 |
| Max +9 | | 1.4 | 965 | 32.5 |
| Max +10 | | 1.42 | 1000 | 33.3 |
| Max +11 | | 1.44 | 1035 | 34.2 |
| Max +12 | | 1.46 | 1070 | 35 |
| Max +13 | | 1.48 | 1105 | 35.8 |
| Max +14 | | 1.5 | 1140 | 36.7 |
| Max +15 | | 1.53 | 1175 | 37.5 |
| Max +16 | | 1.55 | 1210 | 38.3 |
| Max +17 | | 1.57 | 1245 | 39.2 |
| Max +18 | | 1.59 | 1280 | 40 |
| Max +19 | | 1.61 | 1315 | 40.8 |
| Max +20 | | 1.63 | 1350 | 41.7 |
| Max +21 | | 1.66 | 1385 | 42.5 |
| Max +22 | | 1.68 | 1420 | 43.3 |
| Max +23 | | 1.70 | 1455 | 44.2 |
| Max +24 | | 1.72 | 1490 | 45 |
| Max +25 | | 1.74 | 1525 | 45.8 |
| Max +26 | | 1.76 | 1560 | 46.7 |
| Max +27 | | 1.79 | 1595 | 47.5 |
| Max +28 | | 1.81 | 1630 | 48.3 |
| Max +29 | | 1.83 | 1665 | 49.2 |
| Max +30 | | 1.85 | 1700 | 50 |
| Max +100 | | 3.5 | 2950 | 120 |