Not to be confused with Auxiliary Rockets.
Overview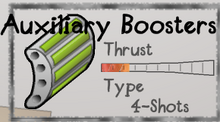 The Auxiliary Boosters are a boost in Learn 2 Fly. It is rated 2.5/10 on the Thrust Evaluation bar. It is a 4-shot boost.
Description
"Usually seen on military planes, these boosters offer 4 short but powerful shots."
Trivia
The Auxiliary Boosters are the only boost to have their name written partially outside the box, due to lack of space...
They however are one of two items for which this is true, the other being the UltraLight Aircraft.